1948
After a brief partnership in 1946 (Sydney-Marion School of  Dance, Sydney King and Marion Cuyjet parted ways and independently founded their own Schools The Sdyney King School of Dance and the Judimar School of Dance
Marion Cuyjet founds the Judimar School of Dance
Marion Cuyjet opened the Judimar School of Dance named after her and her daughter Judy (born 1940). The school was located in Philadelphia's city center, the first African American business located downtown.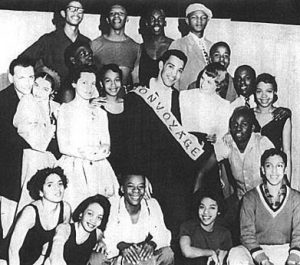 Marion Cuyjet was a former student of Essie Marie Dorsey after a brief partnership with classmate Sydney King in 1946 she opened the Judimar school which offered classes in ballet, Afro-Caribbean dance, modern dance, tap, jazz, social dance, folk dance, children's dance and acrobatics. Cuyjet's major objectives were twofold: first, to make dancers, and second to provide dance preparation to all youth as a vehicle for social, cultural, intellectual and physical development. Some of Judimar's former students include Judith Jamison, Arthur Hall, Joan Myers Brown, John Jones, Elmer Ball, Donna Lowe Warren, Delores Browne Abelson, Tamara Guillebeaux, and China White.
Sydney King Founds the Sydney King School of Dance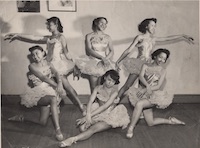 Sydeny King was a student of Essie Marie Dorsey and was the lead ballerina in her school however due to her race there were no possibilities of performing professionally. In 1946 Marion Cuyjet approached her about opening a school together- The Sydney Marion School of Dance. After a short partnership the ladies split and King opened her own studio. The school offered classes in ballet, tap, Dunham technique, interpretive dance and acrobatics.
King's former students include Lola Falana (dancer and actress), Karen Steptoe Warrington (Arthur Hall's Afro-American Dance Ensemble), Joan Myers Brown (founder of the Philadelphia Dance Company–Philadanco) and Billy Wilson (Netherlands Ballet and choreographer).  The Sydney School of dance is still in operation.
Other Happenings in 1948
American History
Mar 8 US Supreme Court rules in McCollum v. Board of Education that religious instruction in public schools is unconstitutional
Apr 3 US President Harry Truman signs Marshall Plan ($5B aid to 16 European countries)
Apr 14 NYC subway fares jump from 5 cents to 10 cents
Apr 30 US performs atmospheric nuclear test at Enwetak
World History
January 30; Mahatma Gandhi assassinated by Nathuram Godse
Apr 18 International Court of Justice opens at Hague Netherlands
May 4; The Hague Court of Justice convicts Nazi SS officer in the Netherlands Hans Rauter of Crimes against Humanity (executed 24 March 1949)
May 14 Israel declares independence from under British administration
September 3; Tara Oedayraj Singh Varma, 1st black woman in Dutch 2nd Chamber
Arts& Sciences
Jan 31 Magnetic tape recorder developed by Wireway
July 10; "Ballet Ballads" closes at Music Box Theater NYC after 62 performances
March 16; Billie Holiday is released from prison early because of good behaviour
May 3 Pulitzer prize awarded to James Michener & Tennessee Williams
Human and Civil Rights
January 26; Executive order 9981 ending racial segregation in US Armed Forces signed
February 2; President Harry Truman urges congress to adopt a civil rights program
Apr 14 A flash of light is observed in crater Plato on Moon
May 1; Glen H. Taylor, Idaho Senator,arrested in Birmingham, Alabama, for trying to enter a meeting through a door marked "for Negroes"
May 26 South Africa elects a nationalist government under D. F. Malan with an apartheid policy
July 26; President Harry Truman issues Executive Order No. 9981 directing "equality of treatment & opportunity" in armed forces
Sports
June 13; Babe Ruth's final farewell at Yankee Stadium, he dies Aug 16th
Nov 30; Baseball's Negro National League disbands
June 25; Joe Louis KOs Jersey Joe Walcott in 11 for heavyweight boxing title
Nov 30; Baseball's Negro National League disbands