1961
The Capitol Ballet Company was Founded in Washington DC/ Raven Wilkinson Leaves the Ballet Russe de Monte Carlo
In 1961 Doris W. Jones and Claire H. Haywood established the Capitol Ballet Company, a multiracial performing company, as an extension of their Jones-Haywood school.
The company performed classic works including Swan Lake as well as original pieces by Jones, including Ebony Concerto company was the nation's first professional ballet troupe of predominantly African American and The Rachmaninoff Concerto. Notable company members were Sylvester Campbell, Sandra Fortune Green and Hinton Battle
(https://www.culturaltourismdc.org/portal/jones-haywood-school-of-ballet-african-american-heritage-trail)
See:
Article Link
https://www.washingtonpost.com/archive/lifestyle/1988/05/14/capitol-ballet-capital-night/280f6d5a-c95a-4b61-8e3f-82439dbfc9d4/?utm_term=.eaffbc010f1a
Raven Wilikinson Leaves the Ballet Russe De Monte Carlo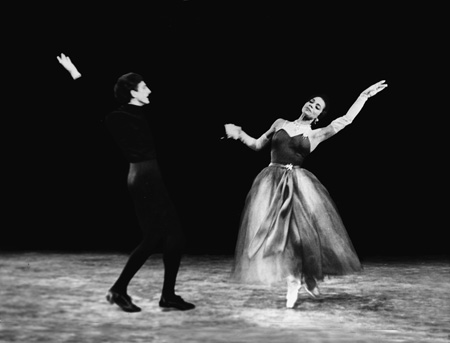 After six years with the Ballet Russe De Monte Carlo Raven Wilkinson is forced to resign after being outed for being Black
While on tour with the company she encountered issues concerning "whites only" hotels in the American South. When on stage, Wilkinson was asked to wear white makeup. Wilkinson never denied her race when asked. She was forbidden to perform in certain towns that were considered unsafe. She was eventually advised that should would not go much further with the company and left after six years.
See:
1955
Other Happenings in 1961
American
Jan 25th 1st live, nationally televised presidential news conference (JFK)

Mar 1st US President JFK establishes the Peace Corp

Mar 8th US nuclear submarine Patrick Henry arrives at Scottish naval base of Holy Loch from SC in a record underseas journey of 66 days 22 hrs

May 1st 1st US airplane hijacked to Cuba

May 25th JFK announces US goal of putting a man on Moon before the end of decade

Aug 30th J B Parsons is 1st African American judge of a US District Court

Sep 5th JFK begins underground nuclear testing



World

Apr 12th Russian cosmonaut Yuri Gagarin becomes the first person to orbit Earth (Vostok      1)

Apr 17th 1,400 Cuban exiles land in Bay of Pigs in a doomed attempt to overthrow Fidel Castro

Jul 14th Pope John XXIII publishes encyclical Mater et magistrate

Dec 2nd Fidel Castro declares he's a Marxist & will lead Cuba to Communism



Arts and Sciences

 

Jan 12th "Show Girl" opens at Eugene O'Neill Theater NYC for 100 performances

Jan 15th Supremes signed with Motown Records

Jan 25th Walt Disney's "101 Dalmations" released

Feb 7th Jane Fonda made her acting debut in the NBC drama "A String of Beads"

Feb 13th Frank Sinatra launches Reprise label under Warner Bros Records

Apr 5th Barbra Streisand appears on "Jack

Apr 8th "Show Girl" closes at Eugene O'Neill Theater NYC after 100 performances

Apr 17th 33rd Academy Awards – "Apartment" wins best film, Burt Lancaster & Elizabeth Taylor win best actor/actress

May 1st Pulitzer prize awarded to Harper Lee for her novel "To Kill a Mockingbird"

Jun 16th Soviet ballet dancer Rudolf Nureyev defects to West at Le Bourget Airport in Paris

Jun 24th Beatles record "If You Love Me Baby

Jul 24th Edwin Newman becomes news anchor of Today Show

Aug 31st Amsterdam National Ballet forms

Sep 17th Samuel Beckett's "Happy Days," premieres in NYC

Sep 23rd 1st movie to become a TV series-How to Marry a Millionaire

Sep 23rd Ernie Banks ends 717 consecutive-games-played streak

Oct 18th "West Side Story", the film adaptation of the 1957 Broadway musical, starring Natalie Wood, is released (Best Picture 1962

Dec 4th Floyd Patterson KOs Tom McNeeley in 4 for heavyweight boxing title

Dec 8th Wilt Chamberlain scores the 2nd highest total in the NBA – 78


Human and Civil Rights
 

Jan 3rd Adam Clayton Powell elected Chairman of House Education

Jan 11th Racial riot at University of Georgia

Feb 11th Robert Weaver sworn in with then highest federal post by a black

Mar 27th Black demonstrators in Charleston staged ride-ins on street cars

Mar 29th After a 4½ year trial Nelson Mandela is acquitted of treason in Pretoria

May 4th CORE begins freedom rides from Washington, D.C.

May 14th Bus with 1st group of Freedom Riders bombed & burned in Alabama

May 20th White mob attacks "Freedom Riders" in Montgomery, Alabama

May 24th 27 Freedom Riders arrested in Jackson, Mississippi

May 26th Freedom Ride Coordinating Committee establishes in Atlanta

Aug 9th James B Parsons is 1st black appointed to Federal District Court

Aug 16th Martin L King protests for black voting right in Miami

Sep 20th James Meredith refused access as a student in Mississippi

Nov 29th Freedom Riders attacked by white mob at bus station in Miss

Dec 12th Martin Luther King Jr. & 700 demonstrators arrested in Albany Ga
Sports
Feb 12th Celtic Bill Russell grabs 40 rebounds to beat Warriors 136

Mar 13th Floyd Patterson KOs Ingemar Johansson in 6 for heavyweight boxing title




•

Apr 30th SF Giant Willie Mays hits 4 HRs in a game

Jun 8th Milwaukee sets record of 4 consecutive HRs (Eddie Mathews, Hank Aaron, Joe     Adcock & Frank Thomas)

Jun 19th NY Yankee Roger Maris hits his 25th of 61 HRs
• Sep 10th Mickey Mantle becomes 7th to hit HR # 400