2009
Toshiro Abbley joins the Dutch National Ballet
Toshiro danced with Dutch National Ballet as a corps de ballet member from 2009-2011.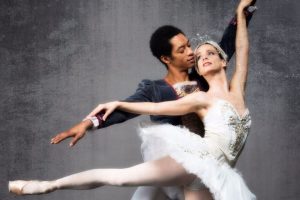 Toshiro Abbley was born in Los Angeles, California to a Japanese father and African American mother. He received classical training at South Bay Ballet in Torrance, where he was inspired by dance student Misty Copeland, who, in 2015, became the first Black female principal dancer of the American Ballet Theatre. In 2006, Abbley was awarded first place at the prestigious Los Angeles Spotlight Awards and was a semi-finalist at the 2007 USA International Ballet Competition. Abbley has gone on to dance with Miami City Ballet, Dutch National Ballet, the Royal Ballet of Flanders, Backhausdance, and the California Ballet. In 2017, Abbley performed a career highlight role as Prince Siegfried in California Ballet's Swan Lake.
---
Other Happenings in 2009
Ballet/Dance History 
Apr: Founding member and former principal dancer Virginia Johnson is named artistic director of the Dance Theatre of Harlem, taking the reins from legendary co-founder Arthur Mitchell.
Céline Gittens is promoted to first artist at the Birmingham Royal Ballet.
American History
Jan 15: Chesley Sullenberger lands US Airways Flight 1549 on the Hudson River shortly after takeoff from LaGuardia Airport in NYC. All passengers and crew members survive.
Jan 20: Barack Obama, inaugurated as the 44th President of the United States of America, becomes the United States' first African American president.
Feb 3: Eric Holder becomes 82nd and first African American US Attorney General, succeeding Michael Mukasey.
Mar 25: Gay dating site Grindr is launched by Joel Simkhai; it is the first ever dating application to combine dating information and location.
Jun 29: Wall Street financier Bernard Madoff is jailed for 150 years for a multi-billion-dollar pyramid scheme.
Jul 4: The Statue of Liberty's crown reopens to the public after 8 years; it was closed due to security reasons following the World Trade Center attacks.
Aug 6: The Senate approves, 68 to 31, the nomination of Sonia Sotomayor to the US Supreme Court. She is the first Hispanic Supreme Court justice and the third woman to serve on the Court.
World History
Jan 3: The Bitcoin network is created as the first block of the digital currency is mined by a person or group of people using the name Satoshi Nakamoto.
Apr 1: Croatia and Albania join NATO.
Apr 17: Former New Zealand Prime Minister Helen Clark becomes the Administrator of the United Nations Development Programme (UNDP), the first woman to lead the organization.
May 1: Same-sex marriage is legalized in Sweden.
Jun 11: The World Health Organization declares H1N1 swine flu to be a global pandemic, the first such incident in over forty years.
Sept 27: German Federal elections return Angela Merkel for her second term as Germany's Chancellor at head of center-right coalition government.
Arts & Sciences
Jan 8: 14th Critics' Choice Movie Awards—Slumdog Millionaire wins Best Film.
Feb 22: Heath Ledger posthumously wins Best Supporting Actor Academy Award for his performance as the Joker in The Dark Knight.
Mar 31: "Boom Boom Pow" single is released by The Black Eyed Peas (Grammy Award for Best Music Video 2010, Billboard Song of the Year 2009).
Jun 7: 63rd Tony Awards—Billy Elliot: the Musical and God of Carnage win.
June 25: Michael Jackson, lifelong musician, pop singer, and superstar, dies at age 50.
Jul 15: Harry Potter and the Half-Blood Prince, the sixth film based on the books by J.K. Rowling is released worldwide.
Jul 19: The Wesley Impact—a black spot the size of Earth is discovered on Jupiter after unknown object crashed onto the planet.
Sept 19: 34th Toronto International Film Festival—Precious, directed by Lee Daniels wins the People's Choice Award.
Nov 13: Scientists find water on the Moon during NASA's Lcross Mission.
Nov 16: The Twilight Saga: New Moon, based on the book by Stephenie Meyer, directed by Chris Weitz, starring Kristen Stewart and Robert Pattinson, premieres in Los Angeles.
Human & Civil Rights
Mar 10: Billy Corgan testifies in front of Congress, on behalf of the musicFIRST Coalition, in support of H.R. 848, the Performance Rights Act.
Mar: A report by the US Justice Department's Bureau of Justice Statistics find that the incarcerated population had reached an all-time high of nearly 2.4 million.
Apr 3: Australia formally adopts the United Nations Declaration on the Rights of Indigenous Peoples.
Dec 10: US President Barack Obama accepts the Nobel Peace Prize in Oslo.
Sports
Jan 12: Cristiano Ronaldo is awarded 2008 FIFA World Player of the Year for the first time at a ceremony in Zurich.
Jan 31: Australian Open Women's Tennis—Serena Williams wins 10th Grand Slam singles title.
Dec 11: Tiger Woods announces an indefinite leave from professional golf.