Courtney Lavine
American Ballet Theatre: Corps de Ballet (2010-present)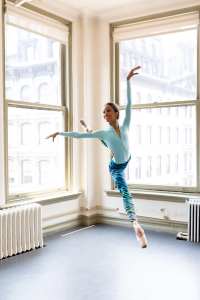 Born in Los Angeles, California and raised in Fairfax, Virginia, Courtney Lavine began her dance training at an early age. In 1998, at the age of 8, she began a dedicated pursuit of classical ballet under the tutelage of Troy Brown, formerly of Pacific Northwest Ballet. She won numerous first place awards in commercial dance competitions and in 2001 won the Youth America Grand Prix (YAGP), Regional "Hope Award." That same year, at the YAGP New York City Finale, she won a full scholarship to study at the Kirov Institute in Washington DC. Lavine was also offered the "Virginia Johnson Scholarship" by the Washington Ballet School and began her studies there in 2001. As a student at Washington Ballet School, Lavine performed at the Kennedy Center with the Washington Ballet corps de ballet as a Willi in Giselle and in Septime Weber's Cinderella. She was also featured in The Washington Post for her performance as Clara in The Washington Ballet's Nutcracker.
From 2001 through 2005, Lavine studied on scholarship at The School of American Ballet (SAB) and San Francisco Ballet Summer Intensive programs. From 2005-07, she studied full time at SAB under honorary merit scholarship. In 2007, Lavine performed the lead role for New York City Ballet's Winter Gala in a SAB student performance of Romeo and Juliet at Lincoln Center. Lavine joined ABT Studio Company in 2008. She joined American Ballet Theatre as an apprentice in February 2010 and the corps de ballet in August that same year.
Her repertory includes the Nanny, the Sugar Plum Fairy and one of the Nutcracker's Sisters in Alexei Ratmansky's The Nutcracker; Hail in The Seasons; the Fairy Fleur de Farine (Wheat flower), the Silver Fairy, and Cinderella in Ratmansky's The Sleeping Beauty; the Spanish Princess and the Spanish Dance in Swan Lake; and featured roles in AfterEffect, Deuce Coupe, and Songs of Bukovina.
Ms. Lavine's performances with American Ballet Theatre are sponsored by Arianna and Samantha Netter.
Source:
Courtney Lavine, American Ballet Theatre
See also:
How Courtney Lavine, a Ballerina, Spends Her Sundays, The New York Times
Dancing on Her Own: Meet Courtney Lavine, The Style Line
2019 Stars of the Corps: American Ballet Theatre's Courtney Lavine, Pointe Magazine
Ballerina Courtney Lavine Has Picked Up Beauty Secrets All Over the World, W Magazine
Courtney Lavine, Ballerina, Into the Gloss
Q&A With Dancing Queen Courtney Lavine, Teen Vogue
Video links:
ABT Met Memory Featuring Corps de Ballet Dancer Courtney Lavine
#AskABT: Courtney Lavine and Brittany DeGrofft
Family Stories – Courtney Lavine
Social media:
Instagram @cocolavine