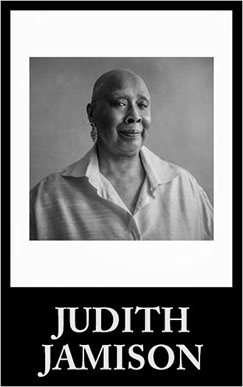 Judith Jamison is an icon. The word "singular" was created for people like her— there is no one who looks like her, no one who moves like her, and no one who has the power to inspire the way that she does. She is larger than life, both physically and in persona. Yet neither her wingspan nor her sonorous voice adequately indicate the extent of her reach. Though praised for her physical prowess, her agility is not relegated to her dancing. Her very spirit is dynamic. Like the Gemini twins, there is a duality to her: she is a stern disciplinarian with enthusiastic sense irony and wit. Her aristocratic elegance belies that fact that she is authentically "down"; there is no artifice about her. She is all things, at all times, and always unapologetically herself.
As a statuesque chocolate brown woman with short natural hair, she never fit into the "European Ideal" of beauty. And she never tried to. She has always stood firmly in who she is and known her value. With her talent, poise, grace, and physique, she sparked a new standard of beauty and excellence. What she represents— as an artist, woman, and leader— is so complex and layered it is hard to know where to begin. To understand who Judith Jamison is, we must first understand her becoming. In her own words:
Philadelphia, of course, put me together. Philadelphia put me together. If the city hadn't been the way it was when I was growing up, with its beauty and its ugliness, then there's no way in the world I would have come to know that I love the city, but I also wanted to get out.
Born in 1943, Jamison recalls that some of the earliest sounds she heard were the sound of the horse hooves on cobblestones and the clinking of bottles as the milkman made his deliveries. Music played a formative role in her becoming; the music that filled her life in the early years was the first page of the score of her life. Her father, John Henry Jamison was a carpenter and sheet metal mechanic taught her to play the piano when she was eight, and at ten she took violin lessons in school. Her parents were part of a social club, The Nocturnites, who regularly went to the Dra Mu opera concerts that featured black singers. Their family was anchored in the church. It was there, amongst the rich tones of the choir and the vibrant pageantry of the robes and processions, that she had her first encounter with "Theater."
The Jamison clan were a tightly knit family. When she was five, her family moved to the Philadelphia neighborhood of Germantown. Her Grandmother lived next door, and her aunts and uncles were all within a 20 block radius. She was incubated and protected thoroughly, nurtured and loved. Germantown was a working class, racially diverse neighborhood where everybody knew everybody and got along. Likewise, the schools and district where they lived were integrated. Yet, where blacks and whites might be friends in school, it did not extend beyond the schoolyard:
I couldn't go to someone's house after school, didn't dawn on me until much later. Why I couldn't visit somebody that lived near the school; why I wasn't asked back. I was a good kid. There was no reason why I shouldn't have been asked back to someone's home. So I didn't go to your house after dinner, it didn't bother me. I didn't care back then. I really didn't. I was totally oblivious to some of the blatant ostracism that could have changed my perspective.
As a young girl, it was the the loving environment that protected her from the harsh realities of racism. Her homelife stanched the possible growth of fear and insecurities that could often inhabit one who moved through the world in a black body. Instead, hers was a world full of possibilities, and no limitations. Neither race nor class were impediments.
My father was a sheet metal mechanic, and a carpenter. He built almost everything in our house, from dining room tables to kitchen cabinets, and there was a black girl whose father was a doctor, and her mother was a lawyer at Marion Cuyjet's school. There's the class difference, but there we are, still being as black as we are.
She was dark skinned with short hair, and tall, long, gangly. In the black community fair skin, and "good" hair are revered, coveted, and often were keys to opening doors the way that  money and education generally could. Had it not been for her mother, whom Jamison takes after— her regal comportment, refined manner, and sense of pride— she might have had the low self esteem that other dark girls often fell victim to. Instead, she was taught to embrace the fact that no one looked like her. When she found dance, she discovered that no one moved like her either.
Recognizing the coltishness of her young daughter, Tessie Belle Jamison sought out dance lessons to get "some grace in this house." She took the six-year-old downtown to 1310 Walnut street where Marion Cuyjet's Judimar School of Dance was located. Cuyjet, a student of Essie Marie Dorsey, was a black woman who looked white with green eyes and red hair. She was a strict disciplinarian who had a great appreciation for all genres of dance but particularly ballet. She was of the Russian-style of technique, and insisted on her students' mastery of the French terminology of ballet.
Although Jamison was only six at the time, she looked older and had natural facility such that John Hines (a ballet teacher at Judimar) wanted to put her with the nine year olds. Cuyjet objected and instead placed her at the level of her knowledge, and trained her following the standard progression. She made certain that she had copies of the terminology papers so that she was learning the vocabulary as well as the steps Jamison recalls learning ballet terminology:
We listened to her, I think we had little books. We had to write things down. I don't know if we had tests, but my ballet vocabulary is still pretty fabulous. So fabulous that when I started touring in France the people thought I spoke French.
She took to the vocabulary quickly. Her acumen in ballet terminology would serve her well four years later as a ten year old when she would study with world renown choreographer Antony Tudor who only spoke combinations, and never demonstrated. For her first two years at Judimar, Jamison solely studied ballet and flourished under the tutelage of the Judimar faculty. Delores Browne, a protege of Cuyjet and one of the most noteable Blacks in Ballet, was one of her teachers. Cuyjet had a system whereby older students would (under her supervision) teach the younger students. A 17-year-old Browne would later go on to study at the School of American Ballet, and dance with the Philadelphia Ballet Guild as well as the New York Negro Ballet:
Dolores Browne as a teacher, was another disciplinarian. She learned from Marion Cuyjet. Dolores carried herself the way a ballerina carries herself. That was my image that I could see every time I went to class. The straightness of her back, the pride of her carriage, the way she walked, the way her pointe shoes were tied, the way she carried herself when she was teaching us, with pride. And she knew what she was talking about. She knew how to correct us. She knew how to keep us in line, gently.
Later when Jamison was 14, she too would become a student teacher. She quickly found that Cuyjet's high standards and demand for serious study had rubbed off on her. She was so strict and her standards so high that it was almost impossible for her students to learn. She had taken everything that Cujyet was teaching to heart; there was a seriousness in study that was required.
The Judimar School was a refuge, a community, and a family. It was not only a place to learn dance but also to inherit social graces. Cuyjet knew the importance of being able to carry and present herself well in the world, especially as a Negro. She was adamant that her pupils would be prepared on every level. Cuyjet would invite young men from good families to participate in etiquette classes:
She took care of us socially, in that she would hold tea dances. We would have class, but every now and then, she would literally do a tea dance. It would be in the afternoon, maybe on a Saturday. You had to dress for it, and the guys that danced with you at these things, they needed to stay a distance away from you when you danced. It was very proper. Very very proper. So there were manners being learned, as if you didn't learn them at home. Of course I did. But yes, you were learning social graces.
There was a seriousness to Jamison from a young age. With the influence of her mother, Cuyjet, and teachers like Hines and Browne, that seriousness was reinforced and magnified. She had an incredible amount of facility— long legs and arms, flexibility, nice feet, and a natural athleticism. And she had the head for ballet. Even in the presence of Tudor, she was unfazed:
For some reason at that age, at 10, I could just get it. I just got it. And so people were taking the class and maybe they'd mess up, and he would go, "Judy, show." And I'd show what the combination was supposed to be. Unafraid, just completely clear. Didn't know any better not to be.
PLEASE VISIT THE DESKTOP VERSION
TO VIEW JUDITH'S GALLERY & OTHER FEATURES.
One would think that an international dance star such as Judith Jamison must have known from her first moments at the barre that she was destined to be a dancer, but this was not the case. Rather than pursuing dance, dance pursued her. Judith Jamison may not have had a traditional career as a professional ballet dancer, but her beginnings are rooted there. The discipline and structure of the technique prepared her to embrace the structure of Horton Technique. Cuyjet and the Judimar school instilled within her the work ethic and respect for the studio which Cuyjet told her students was "Holy Space." The fearlessness of her first ballet teacher taught her not to be afraid to grab life and opportunities with both hands and drink it in.
After eleven years at Judimar, Jamison graduated high school and enrolled at Fisk University. Though she loved the school, it did not challenge her. So she returned to home and enrolled in Philadelphia Dance Academy (PDA, currently University of the Arts). It was there that she truly took the hand of dance as her life partner.
Her time at the Academy set her on the path to greatness. There she encountered the great choreographer Agnes de Mille, who offered Jamison her first professional gig with American Ballet Theatre (ABT). Her instructors at the Academy, James Jamieson and Yuri Gottschalk, challenged her to dig deep. Jamieson built her petite allegro with lightening speed and precision, no small feat for someone as tall and long as Jamison. Gottschalk developed her strength and unleashed her jump enabling Jamison to perform double tours and saute de basque long before women were expected or asked to do so. It was Gottschalk who also taught her the Russian preparation for large jumps. Jamison recalls the innovative way he made her engage her rotation while tutoring her privately.
He would train me in his kitchen, at his kitchen stove. I would hold onto the handle of the stove. He put the oil on the floor and said, "Stand there and stand in the first position with your legs straight, turning out from your hips."
At 19 while at the Academy, Jamison also took additional dance classes. This was how she was introduced to Horton Technique, taught by Joan Kerr in a small street-level studio. Jamison fell in love (foreshadowing, as Horton is the cornerstone of the Ailey company and her illustrious career.) She had always taken multiple techniques at Judimar (Ballet, Tap, Dunham) but Horton was new to her and it felt good in her body. Horton felt like home. The technique was a challenge for her proportions (Jamison says that she might have the longest thighbone in history), and required her to make adjustments. But these challenges ignited her:
Horton just sat well in my body. All of a sudden, it was, "Oh!" It was a revelation. All of a sudden I just kind of went, "Oh, yeah. I can do this." The only thing that was missing was terminology, vocabulary. People were going, "And one, two, over three, lateral five, six, flat back seven." I hadn't heard that terminology, but it felt like I put a glove on and everything just fit. I still had to work hard for it, but it fit.
While still at the Academy, Agnes de Mille taught a master class and Jamison was instantly connected with her. A year later when Jamison was 22, de Mille invited her to partake in The Four Marys with ABT where a bright-eyed Jamison got to work closely with one of her idols, Carmen De Lavallade. Instantly she was thrust onto the main stage of the dance world, taking class with the likes of Fernand Nault, William Dollar, and Leon Danielian who had been a guest artist at the Philadelphia cotillions. She was smitten with this high-level world of dance and with New York City.  After her New York and Chicago performances with ABT, she decided to stay in New York.
Jamison did what most young artists starting out do: she found a "straight job" to sustain herself while she tried to find dance work. While at ABT, she was befriended by rehearsal pianist Martha Johnson. She took young Jamison under her wing and helped her find work at the World Fair, and tipped her off about an audition being held by choreographer Donald McKayle. She was like a fish out of water at the audition, unable to catch on to the combinations. Although McKayle kept her until the end, he did not hire her. However it was at that audition that McKayle's friend, Alvin Ailey, took a liking to her and offered her a job. The rest is Herstory.
Jamison would go on to serve as a dancer, muse, friend, and successor to Mr. Ailey. She would carry his spirit and legacy on in her body, while building her own as Artistic Director of the Alvin Ailey American Dance Theater for 21 years. With Ailey, Jamison saw the way inclusivity could exist onstage, in the studios, and in the world. While there is an overwhelming lack of diversity in the world of ballet still today, Ailey ensured that it did not exist in his company and Jamison relished in that. When you bring up the issue of racism, or the lack of diversity in the world of ballet, Jamison has voiced that she feel that it is a circular problem:
And black people have been the most generous people I know to open doors and say, "Welcome. You are welcome to come over here and study Sabar, Senegalese dance. Come on in. Come on. You want to perform? Come over here and do it." Mr. Ailey opened the door for everyone to be welcome in the Ailey organization. We're talking about a man that talked about everyone being welcome. He gave the opportunity for us to celebrate our African American cultural experience, modern dance tradition of our country. We've had pointe shoes in some ballets at Ailey. We've been bare feet. We've been in jazz shoes. We've been in every kind of shoe you can think of in all kinds of repertory, because we are capable of doing all kinds of dance at the peak of dance, not just doing it, you know what I'm saying, but being excellent at it and having a heart and a passion and a soul for it. But the opportunities, the arms have been open forever, so when is somebody going to pick up the example?
Exasperated with the continued lack of diversity, Jamison does her part to carry on Ailey's vision while building her own legacy of openness. She has been honored and acknowledged for her critical role in the field of dance— in 1999, Jamison was a Awarded the Kennedy Center Honor for her contribution to American culture through dance and in 2011 she received a National Medal of Arts in 2001. For more than 5 decades, Jamison has played the role of dancer, choreographer, and Artistic Director, responsible for maintaining the aesthetic standard and quality of this major dance company. She knows full well that dancers come in a variety of shades and shapes and that their stories are essential to the continued development of the form.
I think it's important that black ballet history is told. There are so many unsung, un-danced stories that we don't know about. It's part of our history and our history has always been so distorted, as if we weren't there or if we were there, something else was going on. It's totally important to not have your history distorted, not have it twisted, not have it ignored, eliminated, act like it didn't happen.
Although Jamison's place in history and in the canon of dance is secure, she is highly aware that for most black dance artists (ballet and otherwise) this is not the case. When asked how she feels about the history of black in ballet, she quotes an African Proverb: "Until the story of the hunt is told by the lion, the tale of the hunt will always glorify the hunter."