Precious Adams' Journey from Student of the World to Captivating English National Ballet First Artist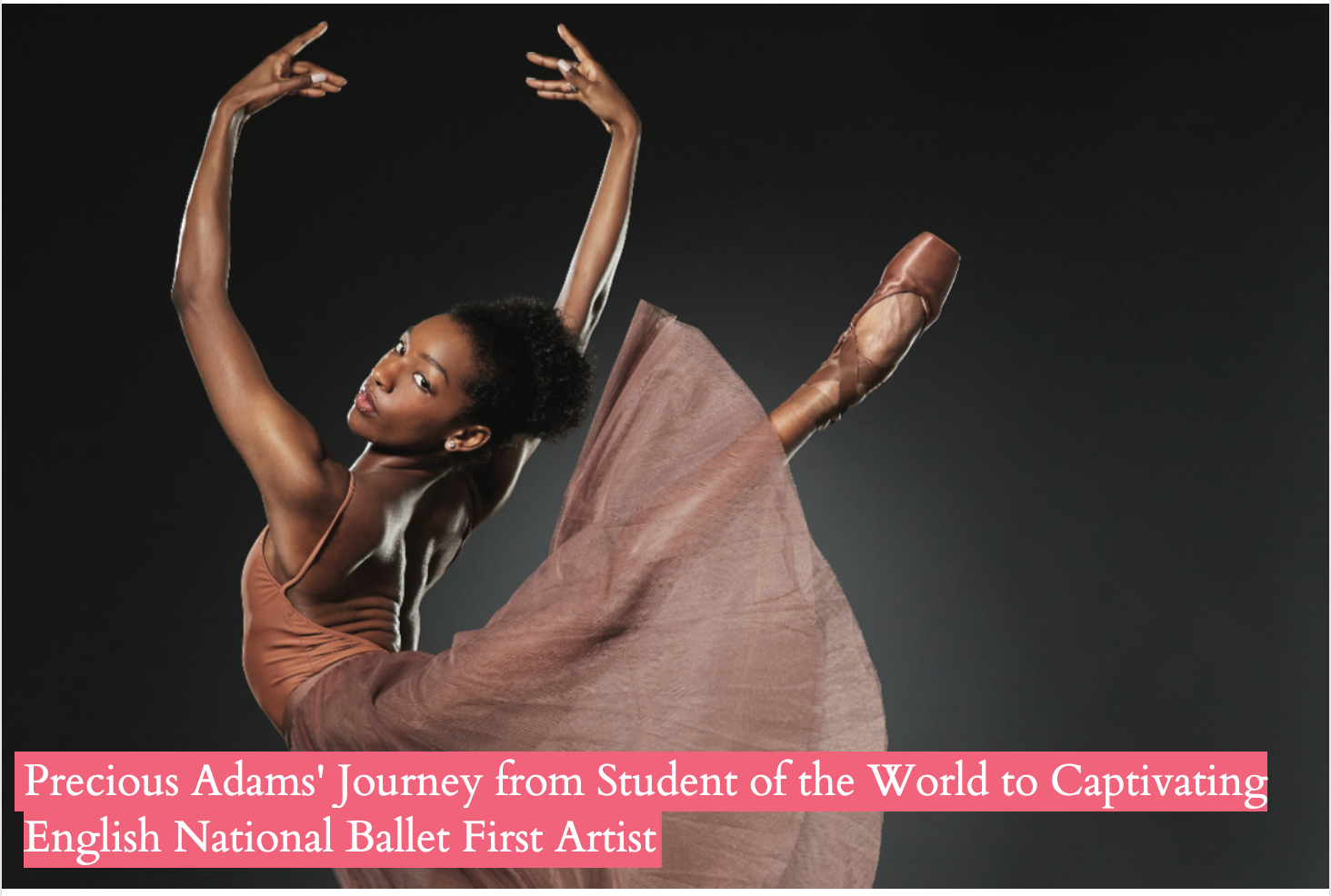 Have you picked up your Fall 2019 copy of Pointe Magazine? If you already have, you know that First Artist of English National Ballet, Precious Adams, graces the cover. Draped in tulle the color of chocolate brown, with pointe shoes to match, she is elegant and striking. While this cover story follows her journey from student to professional, Adams also offers insight to how she handles racism in the Ballet world. We were thrilled that DanceMedia generously donated copies of this September Pointe Magazine to our MoBBallet Symposium welcome bags in October!!!
This is Pointe's Fall 2019 cover story read the full article HERE
Precious Adams is sitting in a deck chair in the sunshine of London's Olympic Park. She's on a break from rehearsing Christopher Wheeldon's Cinderella with English National Ballet, where she's been polishing up her comic timing for the role of Sister Edwina (they're not "ugly" sisters in this production). "Working with Christopher Wheeldon is a massive tick on my bucket list," smiles the 24-year-old as she tucks into her lunch.
The Detroit native joined ENB in 2014 and was promoted to first artist, one notch up from the corps, in 2017. For a dancer with such an impressive resumé, that may not seem like a meteoric rise—she trained at Canada's National Ballet School, the Princess Grace Academy in Monaco and Moscow's Bolshoi Ballet Academy before becoming a double prizewinner at 2014's Prix de Lausanne. So as she comes up to five years with ENB, is Adams frustrated not to be moving more quickly up the ranks? "I can't say yes or no because I don't really live with too much expectation," she says, matter- of-fact. "I don't like to be disappointed if things don't go exactly how I want." Rank is less important in this company, she says, because visiting choreographers cast whichever dancers suit the roles. "I'm okay to wait in line, to keep working," she says, "as long as I'm ready when opportunities come my way."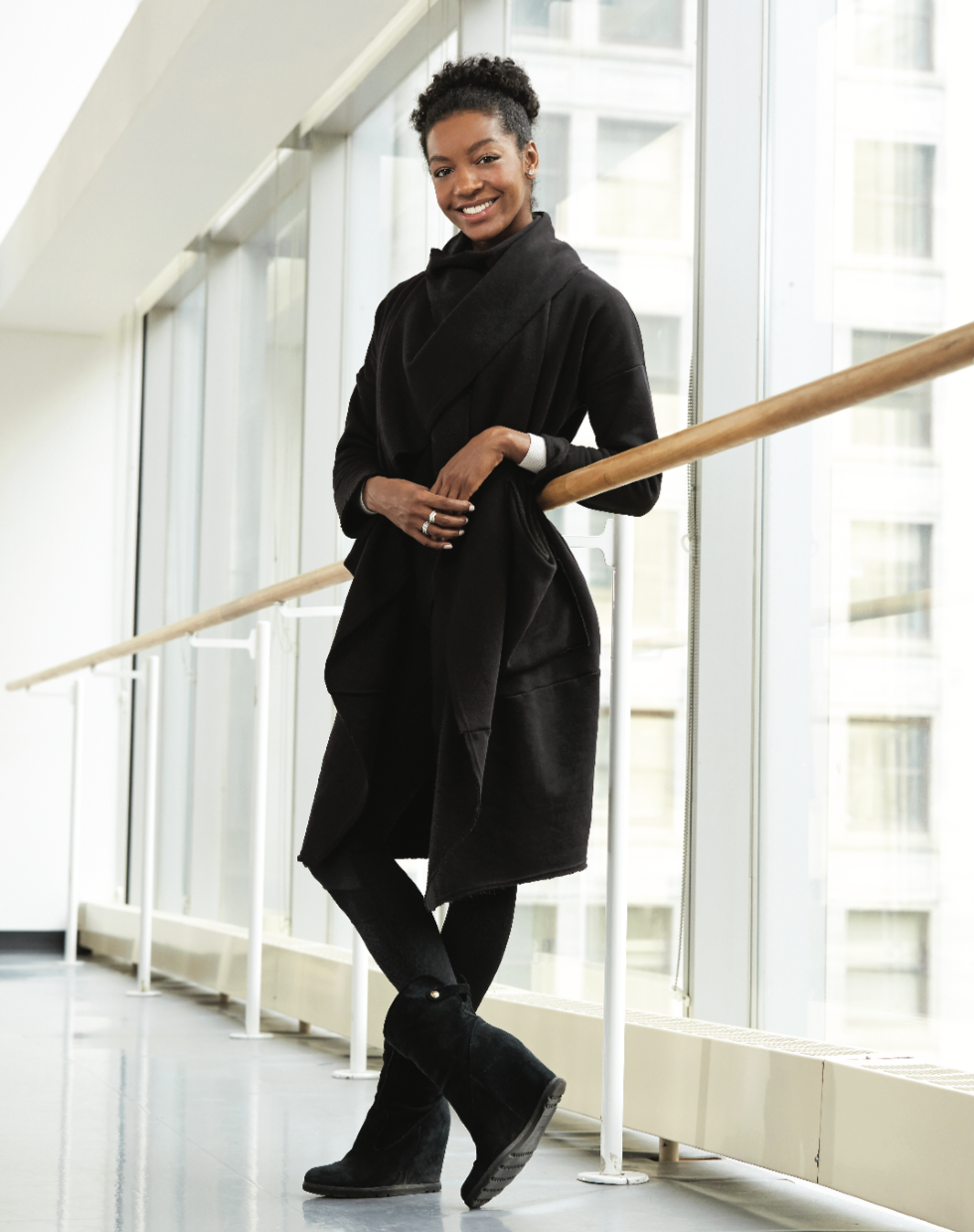 And those opportunities are now coming her way. Adams has been repeatedly singled out by the critics, who gave her the Emerging Artist prize at 2018's UK National Dance Awards, and her career is gaining momentum: Last season she was cast as the Chosen One in Pina Bausch's Rite of Spring ("It's raw and powerful and spiritual," she says); she danced the "Calliope Rag" with panache and pizzazz in Sir Kenneth MacMillan's Elite Syncopations; and over the last two years she's made her mark in ballets across the rep, from the wilting grace of La Sylphide to the strident modernity of William Forsythe's In the middle, somewhat elevated. A powerfully athletic dancer with deep-rooted classical sensibility, Adams' training has given her versatility: the articulated French footwork from her time in Monaco, the flexibility and expansive port de bras from the Bolshoi.
Before her performances at Jacob's Pillow Dance Festival this summer, Chyrstyn Fentroy had to style her own hair — and she said she prefers it that way.
"Well, as a black woman, I have an afro," the Boston Ballet soloist said while stretching her legs at a makeshift physical therapy station before the Saturday matinee. Recalling one instance in which a stylist broke hairs with aggressive brushing, Fentroy said, "Most people who do hair in the ballet world aren't familiar with it."
When Fentroy joined Boston Ballet in 2017, she was the first black woman to do so in a decade. She has risen through the company quickly, scoring two promotions in two years
"She has been tremendous," said Mikko Nissinen, artistic director of Boston Ballet. "She's moving forward like a tornado."
Fentroy's interest in dance began with her parents, who were also her teachers. Her father coached a dance team in hip-hop and jazz, and her mother, who performed with regional companies in California and at the Cairo Opera House, trained her in classical ballet. Fentroy can describe the studio where her parents taught, the Peninsula School of Performing Arts in Palos Verdes, Calif., in vivid detail — she practically grew up there.
"My parents would be teaching, and I would be stuck there, especially Saturdays. I'd be there all day," Fentroy recalled. When she wasn't in class, she passed the time by riding her scooter around the parking lot and sneaking into a utility closet to watch movies. "I would eventually wander off, but I never went far."
Fentroy's parents divorced when she was about 7. Her father remained her teacher for a few years, but the budding dancer was primarily raised by her mother. Ruth Fentroy said she "ate, slept, and breathed ballet" through Chyrstyn's childhood, though she declined several contracts so as not to interfere with her daughter's schooling.
But Fentroy wasn't certain dance was her passion until she left home. As the teachers' daughter, "it was easier for me to slip through the cracks and get away with not pointing my toes, goofing around at the back of the room," she said.
Still, Fentroy was stung by the remarks she overheard in the studio — some peers suggested she got desirable parts and solos only because the teachers were her parents.
Leaving California after high school for the Joffrey Ballet School in New York marked a shift for Fentroy: She was beginning to define herself as an artist on her own terms. Her craft, she realized, could be about more than just flashy "tricks." CONTINUE ARTICLE HERE