Tyrone Singleton
Birmingham Royal Ballet: Principal (2003-present)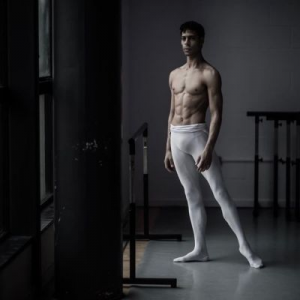 Tyrone Singleton trained at the Royal Ballet School and the Tring Park School for the Performing Arts. In 2003, he began work with the Birmingham Royal Ballet director David Bently. Since joining, he has danced many notable roles such as: Romeo (Romeo and Juliet), the Prince (The Nutcracker), Cavalier (The Sleeping Beauty), Franz (Coppelia), Prince Seigfried (Swan Lake), and Apollo (The Orpheus Suite), to name a few, and in 2013 was promoted to principal.
Singleton has performed as a guest artist for National Ballet of Japan and is the 2003 recipient of the Solo Seal award.
Singleton's repertoire with Birmingham Royal Ballet includes Frederick Ashton's La Fille mal gardée (Colas) and Dante Sonata (Child of Darkness); George Balanchine's Slaughter on Tenth Avenue (Big Boss), Stravinsky Violin Concerto, and Agon; David Bintley's The Tempest (Caliban), Cinderella (Prince), Beauty and the Beast (Beast), Edward II (Gaveston, Mortimer), Aladdin ('Ruby'), Carmina burana (Third Seminarian), The Prince of the Pagodas (King of the South), 'Still Life' at the Penguin Café (Southern Cape Zebra), The Nutcracker Sweeties (Peanut Officer), The Orpheus Suite (Apollo), The Seasons ('Summer'), The Shakespeare Suite (Othello), Cyrano (Le Bret), Hobson's Choice (Salvation Army), Take Five ('Two Step') and Faster; John Cranko's The Lady and the Fool (Moondog); Mikhail Fokine's Petrushka (The Moor); Kenneth MacMillan's Romeo and Juliet (Lead role), Elite Syncopations ('Bethena Concert Waltz') and Concerto pas de deux; Hans van Manen's Twilight; Rudolph Nureyev's Raymonda Act III (pas de quatre); Marius Petipa's Don Quixote pas de deux; Twyla Tharp's In the Upper Room and Nine Sinatra Songs ('One for My Baby'); Peter Wright's productions of The Nutcracker (Prince), The Sleeping Beauty (Cavalier), and Coppélia (Franz); and Peter Wright and Galina Samsova's production of Swan Lake (Prince Siegfried, Baron von Rothbart).
Source:
Tyrone Singleton, Birmingham Royal Ballet
See also:
Bintley returns with his new-look 'Cinderella,' The Japan Times
Celine Gittens and Tyrone Singleton – interview, The Guardian
Birmingham Royal Ballet & Ballet Black – A Brief Nostalgia, The Suit, Nine Sinatra Songs – London, Dance Tabs
Birmingham Royal Ballet – Arcadia, Le Baiser de la fée, 'Still Life' at the Penguin Café – London, Dance Tabs
Video links:
Swan Lake makes history – UK's first ever non-white to play the lead role
What's in My Ballet Tour Box
Rehearsal: Swan Lake Act III Céline Gittens and Tyrone Singleton
Social media:
Instagram @tysingleton
LinkedIn Tyrone Singleton
Twitter @ty_sing