James Thurston
New York Negro Ballet/Ballet Americana
Royal Winnipeg Ballet
Dance Theatre of Harlem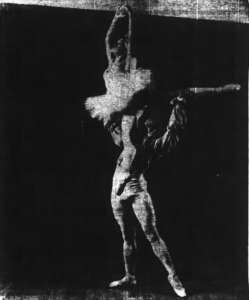 Before joining the Dance Theatre of Harlem, Washington DC-native James Thurston was a member of the Royal Winnipeg Ballet, Canada's oldest ballet company, and the New York Negro Ballet, which was known as Ballet Americana during his time, ca. 1959.
Thurston was in the original DTH casts of Arthur Mitchell's Spiritual Suite (1970) and Fun and Games (1971).
Thurston was also a member of George Faison's company ca. 1974.
In 1975, he was an original cast member, assistant choreographer, and dance captain for the Broadway show Treemonisha.
Thurston was a founding faculty member of the Duke Ellington School of the Arts in Washington DC.
Sources:
Which was the First?—a historical essay on the first Black Dance Company in the USA
Dance Theatre of Harlem Repertory List, Columbia University Libraries
An Alumna Reflects on Duke Ellington School of the Arts' Founding Years of Activism and Artistry, Yvette Heyliger
James Thurston, Playbill
Dance: Faison Company, The New York Times
Winnipeg Ballet To Perform At Dr. Peoples' Inauguration, Clarion-Ledger
Soul Dancing at Center Was Just Too Much, Daily News
Washingtonians Dig Ballet…, The Pittsburgh Courier