Danielle Campbell Steans
Georgia Ballet
Nashville Ballet
Ballet San Antonio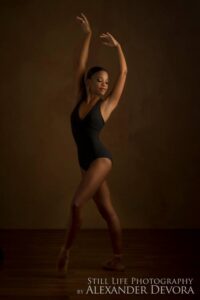 Danielle Campbell Steans started dancing at age four with June Neal Key in Kansas City, Kansas, then furthered her training at age nine with Lisa Stickelman Dillinger and Flo Klenklen at the State Ballet of Missouri (now the Kansas City Ballet School). Campbell Steans continued her dance education at the Walnut Hill School for the Performing Arts in Natick, Massachusetts and was a member of their National Youth Ballet for two seasons.
Campbell Steans then joined the Georgia Ballet, where she danced in La Sylphide, The Nutcracker, and Swan Lake and was featured in Ginger Thatcher's Monet's Garden. She then performed with Nashville Ballet and Nashville Ballet II, dancing in numerous classical and contemporary works. In 2007, Danielle joined Ballet San Antonio and performed in The Nutcracker, Dracula, Coppélia, and more. In 2013, she joined the faculty of Ballet San Antonio, where she helped expand the company's community education program to reach over 10,000 families and initiated a partnership between Ballet San Antonio and American Ballet Theatre's prestigious Project Plié program.
In the summers of 2015 and 2016, her work with at-risk youth at Boys & Girls Clubs in San Antonio earned her a full-tuition scholarship to attend American Ballet Theatre's National Curriculum Training. In June 2016, she opened San Antonio Ballet School. She also provides after-school ballet classes to elementary schools throughout San Antonio. She also runs the San Antonio Youth Ballet, a 501(c)3 whose mission is to cultivate the art of dance among future generations. The Youth Ballet provides young dancers, ages 10-18, unique opportunities to train and perform in a professional environment and to represent the San Antonio community at events and dance competitions throughout the state of Texas and beyond.
Sources: 
Our Story, San Antonio Ballet School
Danielle Campbell Steans, San Antonio Entrepreneurship Week
See also:
Dancing Queen, San Antonio Magazine
Social media:
Instagram @saballetschool
LinkedIn Danielle Campbell Steans