Stephanie Powell
Oakland Ballet
Dance Theatre of Harlem (ca. 1997-1998)
San Francisco Opera
Donald Byrd/The Group
Alvin Ailey American Dance Theater
Contemporary West Dance Theatre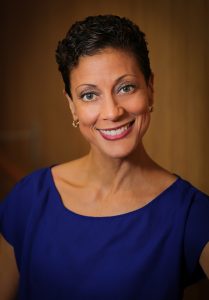 Stephanie Powell grew up in Bakersfield, California and started dance when she accompanied her cousin to a class at age two. She trained at Civic Dance Center with Cindy Trueblood, Pacific Northwest Ballet School on scholarship, and the School of American Ballet.
Powell earned her BA in Sociology and Education from University of California at Berkeley and her MFA in Dance, with distinction, from University of California at Irvine. At the latter school, Powell was a Chancellor's Fellow and was the recipient of the Celebration of Teaching Award and the Distinguished Alumnus Award from the Claire Trevor School for the Arts. During this time, she met Donald McKayle, who "made Powell his muse." He created a solo piece for her entitled I've Known Rivers.
Her professional career started at Oakland Ballet, where she was a member for six years. Later, as a member of the Dance Theatre of Harlem, Powell was in the original cast of Vincent Sekwati Mantsoe's Sasanka (1997) and Arthur Mitchell's South African Suite (1998).
She has also appeared with San Francisco Opera, Donald Byrd/The Group, Alvin Ailey American Dance Theater, and Contemporary West Dance Theatre. In Los Angeles Pantages Theater's production of the Lion King, she was featured in lead roles dancing, singing, and acting.
Her television credits include the Grammy Awards and the Jay Leno Show, and she has danced for Beyonce, Janet Jackson, MC Hammer, and Kenny G.
Powell has taught at the University of California, Irvine and Debbie Allen Dance Academy.
She is a tenured, full professor of Dance at Long Beach City College, the only "full-time African American faculty member in the Theatre, Dance and Film Department." For the school, she created their "Dance Showcase" and has been instrumental in obtaining funding for the dance program.
She is a certified teacher of Pilates, Zumba, and the New York City Ballet Workout and has taught numerous genres: classical ballet, choreography, composition, contemporary ballet, dance appreciation, dance conditioning, dance history, hip hop, jazz, modern, pointe, stretch and relaxation, and yoga, among others.
Powell has volunteered for the NAACP and was on the committee for the International Association of Blacks in Dance Festival.
She has won the Long Beach Post Award for Best Teacher in Long Beach and was nominated for the 2010 Woman of the Year Award and the 2012 Black Leadership Advancement Coalition Alumni Award.
Sources:
Stephanie Powell, Long Beach City College
Stephanie Powell: A Master Dancer and Artist, The Corsair
Stephanie Powell: Ballerina, Professor, this is Malia
Repertory List: Dance Theatre of Harlem, Columbia University Libraries
The Color-Line Ballet Dancers and Race
Black Festival Set To Thrive, SF Gate