Janet Collins and Carmelita Maracci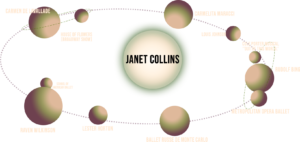 When Janet Collins first moved to Los Angeles at an early age, she began ballet lessons at a Catholic community center. Soon she was accepted to study privately under prominent ballet teachers including Carmelita Maracci. Maracci was one of the few teachers at the time who was open to instructing Black students. Collins greatly respected Maracci, who was herself an extremely talented dancer and highly skilled in ballet technique. Maracci passed this trait on to her pupils.
Sources: 
Janet Collins, The Guardian
Celebrating Black History Month: Spotlight on Janet Collins, Atlanta Ballet
Janet Collins, Jacob's Pillow
Pioneering prima ballerina Janet Collins, Amsterdam News
More about Carmelita Maracci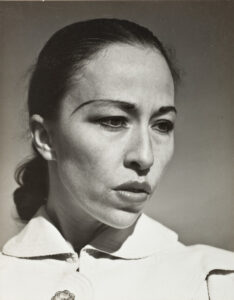 Carmelita Maracci was born in 1908 and grew up in Los Angeles. Her father was of Spanish descent, and this culture came to have a large impact on Maracci and her pursuits as a ballet dancer. After finishing her schooling in Los Angeles, Maracci moved to New York to pursue dance. She began studying under Mikhail Mordkin, the founder of the Mordkin School (a predecessor of Ballet Theatre). In the 1930s, Maracci eventually returned to Los Angeles, where she tutored several students including Agnes de Mille. Though Maracci was only a few years her senior, she became de Mille's teacher, and the two formed a close-knit bond. In the 1950s, with de Mille's encouragement, Maracci choreographed a new work called Circo de Espana for the Ballet Theatre. It contained five Spanish dances, both serious and comic. On opening night of April 19, 1951, Maracci herself danced the leading role in several of the pieces. The work received mixed reviews from critics and audience members, and a possible miscommunication involving de Mille caused her to tell Maracci that the performance was "no good." Previously a fairly prominent dancer, Maracci retreated from the attention and ended her relationship with the Ballet Theatre. Maracci passed away in July of 1987 and is remembered for her astonishing technical ability and passion for experimenting with a blend of classical ballet and Spanish dance. 
Sources: 
Carmelita Maracci, American Ballet Theatre
Carmelita Maracci papers, The New York Public Library Archives & Manuscripts
Carmelita Maracci, the Dancers' Dancer, Dies, Los Angeles Times
Leslie Kim