Maria Sergeyevna Skorsiuk
Mariinsky Ballet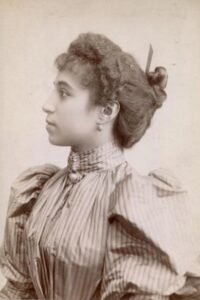 Maria Sergeyevna Skorsiuk is believed to have been the only black ballerina of the Russian Imperial Theatres. Skorsiuk trained at the Imperial Theatre School before joining the Imperial Ballet Company (today known as the Mariinsky Ballet) in 1890 where she would dance for ten years.
Skorsiuk was born in Saint Petersburg, Russia in 1872 and is believed to have been descended from African servants of the Russian Court. She trained at the prestigious Imperial Theatre School and graduated in 1890. Skorsiuk graduated in the same class as Matilda Kschessinskya who become a prima ballerina assoluta and mistress to Tsar Nicholas II. Prior to her graduation in 1890 Skoriuk was cast as one of the four Maids of Honour that accompany Princess Aurora in the premiere of now famed ballet The Sleeping Beauty.
Skorsiuk entered the Imperial Company in mid-1890, arguably at the company's artistic height. Skorsiuk was mostly cast in character roles and appeared in both ballets and operas working with legendary choreographers Marius Petipa, Lev Ivanova and Enrico Cecchètti. In 1895 she was cast in the Spanish Dance in the revival Swan Lake choreographed by Petipa and Ivanov. Skorsiuk appeared in numerous ballets over her ten-year career including the premiere of Raymonda and revivals of Esmeralda, Le Corsaire, The Little Humpbacked Horse, and Coppélia.
Skorsiuk died in 1901 from consumption.
Source:
Peter Koppers, "Maris Skorsiuk", The Marius Petipa Society.