Devin Pullins
Donald Byrd/The Group
Dance Theater of Harlem Ensemble
The Joffrey Ballet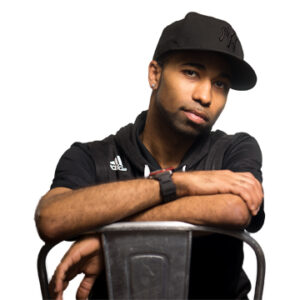 Born and raised in Maywood, Illinois, Devin Pullins started dance classes at the age of six at the Stairway of the Stars under the direction of Lois Baumann and Heidi Renteria where he learned jazz, ballet, tap, and hip-hop and competed nationally. He began his professional training at the age of 16 when he was accepted to the Chicago Academy for the Arts. There he worked in a range of styles including ballet, jazz, modern, and pas de deux. Upon graduation, Pullins enrolled at the Dance Conservatory at the State University of New York at Purchase, studying with Gayle Young, Bettijane Sills, Richard Cook, Maria Calegeria, Christine Spizzo, Kazuko Hirabayashi, and Catherine Kerr. At SUNY Purchase he also performed in a variety of works including those by George Balanchine, Merce Cunningham, and Kevin Wynn. He graduated in 1999 with a BFA in Dance.
After graduating, Pullins joined Donald Byrd/ The Group Dance Company and toured around the world with them for three years. He also worked with a range of companies including, Dance Theater of Harlem Ensemble, Elisa Monte Dance, The Joffrey Ballet of Chicago, Peridance Contemporary Dance Company, River North Dance Chicago, and more. 
Pullins has also had a rich commercial dance career, working with notable artists including Aaliyah, Brandy, Danity Kane, Day 26, Destiny's Child, Kelly Rowland, Michelle Williams, and Puff Daddy. He has also choreographed for the international TV show So You Think You Can Dance in Israel, the United Arab Emirates-Dubai, and Russia as well as for several international commercials. His film credits include dance coach for the 2003 film Stuck On You, dance consultant for the 2009 film Fame, and dance coach and consultant  for the 2010 film Burlesque. He also performed at the 2010 Winter Olympics in Vancouver, Canada and 2014 Winter Olympics in Sochi, Russia. Other commercial roles include work in creative direction and artist development at Epic Records. 
Pullins has taught and choreographed on the dance department at Hofstra University and Joffrey Ballet School in NYC. He has also taught workshops nationally and internationally including in Paris, France; Milan, Italy; Chelyabinsk and Rostov-On-Don, Russia; Buenos Aires, Argentina; Bermuda; Hawaii; and Dubai. 
Sources: 
Devin Pullins, Ballet Arts NYC
Devin Pullins, Power Studios
Social media:
Instagram @drayp77
Twitter @Drayp77
YouTube Devin Pullins