Charon Battles
Pittsburgh Ballet Theatre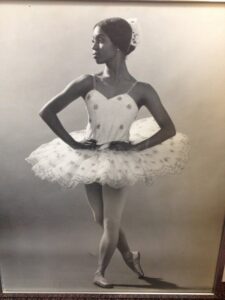 Charon Battles is the Program Director for the Dance Program and the Preserving Diverse Cultures Division and Strategies for Success Program. The program was highlighted in Celebrating America's Cultural Diversity, a publication produced under a cooperative agreement between the National Endowment for the Arts (NEA) and The National Assembly of State Arts Agencies (NASAA). In the publication, Pennsylvania was touted as an example of a successful state arts agency program actively providing guidance in the development, stabilization and expansion of culturally diverse organizations.
Ms. Battles coordinated the Preserving Diverse Cultures: Lifeline to the Next Generation publication. The benchmark publication documenting the Council's Preserving Diverse Cultures Division and Strategies for Success Program support was unveiled at the Eighth Annual PCA Organizational Development Conference.
She comes to the Council from the Martin Luther King Center, Erie Bayfront Ballet where she was the Artistic and Founding Director of the youth dance company. During her tenure with the company, she received numerous invitations to perform, a few of which include: Tanzania, Jacob's Pillow, and the Boys Choir of Harlem. She has served on the Heinz Endowment Advisory Panel, NEA Dance Panel, Lila Wallace-Reader's Digest American Dance Touring Initiative Panel, The Massachusetts State Arts Council Folk and Traditional Arts Panel, and the Citizen's Advisory Council for the Department of Environmental Resources.
As a performer and/or faculty member, Ms. Battles' prior accomplishments include: Pittsburgh Ballet Theatre, Americana Dance Theatre, guest artist with the Wheeling West Virginia Orchestra and Lynn Swann, a special performance for the American Ambassador in Israel, Mercyhurst College Dance Department, Millcreek School District Performing Arts High School, and Slippery Rock University. In addition, Ms. Battles' contemporary ballet Walkin' was performed at the internationally renowned Jacob's Pillow in Massachusetts.
A native of Pittsburgh, Pennsylvania, she attended Carnegie Mellon University and received her B.A. in Dance from Mercyhurst College.
Dancing in Color from Saba Williams on Vimeo.
In recognition of her service to the field she has received the following awards:
June 30, 1996 – Trane Stop Resource Institute, Inc.
Outstanding Service to the State of the Pennsylvania Minority Arts Cultural Community
December 26, 1996 – Umoja African Arts Company
Building Community Spirit
August 30, 1998 – Children of Love Theatre
Dancing Feet Award
March 5, 2004 – The Urban Connection of the Capital Region
Heritage Award for Excellence in Business, Government, Education & the Arts
April 2007 – Women Create
Queen of the Arts Award
May 3, 2007 – Kulu Mele African Dance Ensemble
Passing the Torch and Building Legacies
October 25, 2007 – Jump Street
Spectrum Awards Excellence in the Arts

See also:
Ballet in the Hospital, The Pittsburgh Press
Pittsburgh Ballerina Stars in Erie Dance Company, The Pittsburgh Press