Damien Johnson
American Repertory Ballet (2002)
Dance Theatre of Harlem Ensemble (2003)
Los Angeles Ballet (2008)
Ballet Black: Senior Artist (2005-08/09)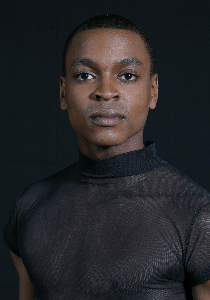 Damien was born in Dallas, Texas and received his training from Etgen-Atkinson School of Ballet and the Booker T. Washington School of the Arts. He then studied on a full scholarship at the School of American Ballet.
In 2002, Johnson joined the American Repertory Ballet and then the Dance Theatre of Harlem Ensemble in 2003. He first joined Ballet Black in 2005 before moving to Los Angeles Ballet in 2008. Johnson returned to Ballet Black in 2009. As the longest serving member of Ballet Black, Johnson has been featured in many company works by choreographers that include Irek Mukhamedov, Liam Scarlett, Richard Alston, and Javier de Frutos and has created the title role of Orpheus in Will Tuckett's 2011 production for Ballet Black.
He created the roles of The Lover in Christopher Hampson's Storyville (2012), The Soldier in Christopher Marney's War Letters in 2013, Oberon in Arthur Pita's Ballet Black production of A Dream Within a Midsummer Night's Dream (2014), and The Ruler in Second Coming (Mark Bruce in 2015). Johnson is also a sought-after teacher and is ballet master for the Ballet Black Company and Associate Programme.
Johnson is now a National Visiting Fellow with School of American Ballet.
Source and current website:
See also:
Texan Damien Johnson of London's Ballet Black returns for the Civic Ballet's summer programme, Royal Gazette
Damien Johnson, Terpsichore
Ballet Black at the Linbury Studio, Bach Track
20 Questions with Ballet Black's Damien Johnson, The Ballet Bag
Video link:
Ballet Black opens up dance world, BBC
Social media:
Instagram @johnsonballet