Nardia Boodoo
Washington Ballet Studio Company (2014-2016)
Pennsylvania Ballet (2016-2017)
Washington Ballet (2017-present)
Born i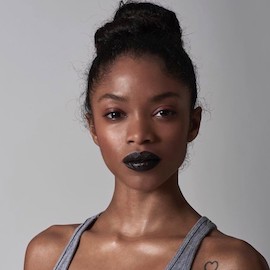 n Baltimore, MD, Nardia Boodoo attended the Baltimore School for The Arts from (2005-2009) and the North Carolina School for The Arts (2009-2010) and was a Professional Training Program (PTP) dancer at Dance Theatre of Harlem from 2010-2011 on full scholarship.
Ms. Boodoo has danced at Jacob's Pillow in 2011 on a full scholarship. During that time, she was part of a select group chosen to work with Stanton Welch on performing an original piece. Ms. Boodoo was asked by Ashley Wheater to attend the Joffrey Academy of Dance as a trainee on a full scholarship with stipend under the direction of Alexei Kremnev and Anna Reznik, where she performed the lead in Choreographers of Color Winner Jeremy McQueen's Black Iris, as well as various works by Alexei Kremnev.
While at the academy, Ms. Boodoo performed Don Quixote and The Nutcracker with the Joffrey Ballet. In 2014, she was invited to join The Washington Ballet's Studio Company. While with The Washington Ballet, Ms. Boodoo performed many full length ballets such a Edwaard Liang's Dancing in the Streets, Giselle, Cinderella, Coppelia, Don Quixote, Paquita, Swan Lake; George Balanchine's Serenade and Theme and Variations; and Septime Webre's Alice in Wonderland, Peter Pan, The Nutcracker, Carmen in Havana, Carmina Burana, Sleepy Hollow, and Juanita y Alicia.
Boodoo is also a signed model with one of the world's top modeling agencies, Wilhelmina Models. Boodoo has starred in commercials and ads for Tory Sport by Tory Burch, Chanel, Estee Lauder, Beyond Yoga, Reebok, Nike, Yumiko, Eleve, Free People, Banana Republic, and So Danca, to name a few. She has graced the cover of Dance Spirit Magazine, VIP Alexandria, and the Village Voice, has had multiple features in Pointe Magazine, and was featured in The Ballerina Project book.
Ms. Boodoo joined Pennsylvania Ballet as an apprentice for the 2016/2017 season. She is now a member of Washington Ballet.
Sources:
Nardia Boodoo, Pennsylvania Ballet (page no longer active)
Nardia Boodoo, Washington Ballet
See also:
They Got the Moves: 10 Black Women Choreographers and Dancers You Should Know, The Culture
2013 Summer Study Guide: Follow the Money, Dance Magazine
Video links:
WHITE (first video), Youtube
Choreographer Jeremy McQueen | Winning Works 2013, Youtube
Social media: