Eric Underwood
Dance Theatre of Harlem: Soloist (2000-2003)
American Ballet Theatre (2003-2008)
The Royal Ballet: Soloist (2008-present)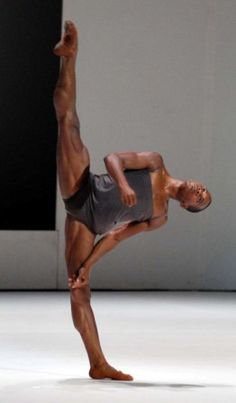 American dancer Eric Underwood was until recently a soloist with The Royal Ballet. He joined the company in 2006 as a first artist and was promoted to soloist in 2008. In his first season with the company he created roles in Christopher Wheeldon's DGV: Danse à grande vitesse and Wayne McGregor's Chroma. He has gone on to create roles for Wheeldon in Aeternum, Electric Counterpoint, and Alice's Adventures in Wonderland (the Caterpillar) and for McGregor in Infra, Acis and Galatea, Live Fire Exercise, Raven Girl, Tetractys, Woolf Works, Obsidian Tear, and Multiverse.
Underwood was born in Washington DC and began training locally with Barbara Marks at age 14. At the end of his first year he joined the School of American Ballet in New York, later winning the school's Philip Morris Foundation Scholarship. He graduated into the Dance Theatre of Harlem in 2000 and was promoted to soloist at the end of the season, before moving to American Ballet Theatre in 2003. His repertory there included Von Rothbart (Swan Lake), High Brahmin (La Bayadère), Officer (Cinderella), Gaoler and Gentleman (Manon), Apollo (Sylvia), and roles in The Four Temperaments, Agon, Work Within Work, and In the Upper Room.
Underwood's Royal Ballet repertory included Gaoler (Manon), Rasputin (Anastasia), Consort to the Queen of Fire (Homage to The Queen), Mrs. Pettitoes (Tales of Beatrix Potter), Southern Cape Zebra ('Still Life' at the Penguin Café), and roles in Afternoon of a Faun, Serenade, Qualia, Aeternum, The Four Temperaments, and After the Rain. For The Royal Opera he has danced in Faust, directed by David McVicar.
Source:
Eric Underwood, The Royal Ballet (page no longer active)
See also:
Eric Underwood: 'I was told, you're black, wear black ballet shoes,' The Guardian
Royal Opera House ballet star Eric Underwood: 'I want to be a great dancer regardless of my colour,' Evening Standard
Meet the Ballet Sensation: Eric Underwood, Men's Health
Video links:
Wayne McGregor's Chroma – The Hardest Button to Button (The Royal Ballet)
Eric Underwood. Acis y Galatea
Tetractys – The Art of Fugue in rehearsal (The Royal Ballet)
Alice's Adventures in Wonderland – The Caterpillar (The Royal Ballet)
Sarah Lamb and Eric Underwood rehearse for Vail International Dance Festival
African-American ballet dancer pays it forward
Social media:
Instagram @ericunderwood
Twitter @EricUnderwood1