Lauren Anderson
Houston Ballet: Principal (1983-2006)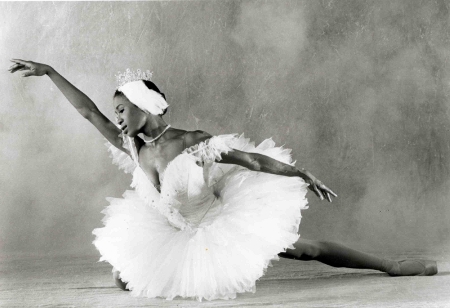 A native Houstonian, Lauren Anderson danced with Houston Ballet from 1983 to 2006, performing lead roles in many great classical ballets and appearing across the world to critical acclaim. In the process, she became one of Houston Ballet's most beloved stars.
She trained exclusively at Houston Ballet's Ben Stevenson Academy starting at the age of seven. She joined Houston Ballet in 1983 as a member of the corps de ballet, was promoted to soloist 1987, and to principal in 1990, becoming the first African American to do so at Houston Ballet. She is also one of the few African American ballerinas at the head of a major ballet company anywhere in the world.
In January 2007, Anderson assumed her new role in Houston Ballet's Education and Community Engagement program, where she conducts master classes at area schools and lectures students on dance and her historic career as one of America's most distinguished African American ballerinas.
Source:
Lauren Anderson, Houston Ballet
See also:
Up Close With Houston Ballet's Lauren Anderson, Houston Public Media
Lauren Anderson, Black Past
Before Misty Copeland, Lauren Anderson made history with the Houston Ballet, KHOU 11
Houston Ballet's Lauren Anderson readies her final bow, Chron
Video links:
Lauren Anderson on InnerViews with Ernie Manouse, HoustonPBS
History making ballet dancer Misty Copeland speaks in Houston, Houston Style Magazine Page
Texas Ballerina Makes History at the Smithsonian, NBCDFW