Carl Adams
Vienna Festival Ballet
Joffrey Ballet II
Joffrey Ballet
Los Angeles Ballet
Boston Theatre Ballet
Virginia Ballet Theatre
Miyamoto Ballet Theatre
Chinese National Ballet: Guest
Jose Mateo Ballet Theatre
Ballet Black
Westchester Ballet Theatre
Long Island Ballet (2008-2009)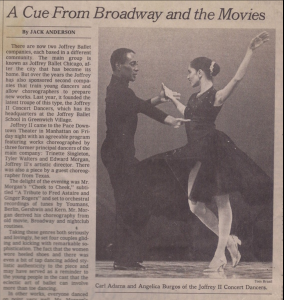 Carl Adams has performed throughout North America, Europe, and the Far East.
One of the first companies he worked for in Europe was the Vienna Festival Ballet, touring to Germany, Vienna, and the South of France.
After coming to the US, he danced and choreographed for Long Island Ballet.
He first performed with the Joffrey Ballet II school company and went on tour with the Joffrey Ballet Company of Chicago. He worked with the Los Angeles Ballet company, touring and performing ballets such as A Midsummer's Night Dream. He left at the end of a tour and later danced with the Boston Theatre Ballet and Virginia Ballet Theatre.
He has worked with Miyamoto Ballet Theatre, with which he was choreographer and dancer. He also went on a mini-tour with the Chinese National Ballet.
Making his way back to the UK, Adams performed with Ballet Black at the Royal Opera House and on the West End stage in the Phantom of the Opera. He acted as an extra in the hit UK soap opera Holby City and in the film Gulliver's Travels, starring Jack Black. More recently, he appeared as an extra in the BBC drama Luther and was a guest teacher for dance schools in and around the London area, teaching and coaching musical theater and ballet.
Source: