Robert Carter
Florence Civic Ballet
Bay Ballet Theater
Dance Theatre of Harlem
Les Ballets Trockadero de Monte Carlo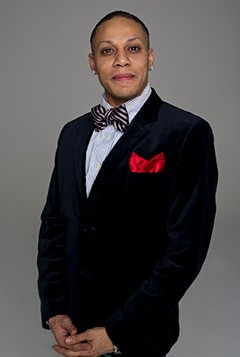 Robert Carter was born and was raised in Charleston, South Carolina. He started dancing at age eight and first saw the Les Ballets Trockadero de Monte Carlo at age ten, which inspired him to dance like them, en pointe, at age eleven or twelve. He trained at the Ivey Ballet School and the Joffrey Ballet School. He performed with a number of dance groups, including the Florence Civic Ballet, Bay Ballet Theater, and the Dance Theatre of Harlem.
Carter joined the "Trocks" in 1995. He started with "the easier stuff" like Go for Barocco, followed by "harder stuff" such as Paquita, Swan Lake, and especially works by Balanchine.
Dancing with the Trocks, was his life dream, says Carter:
"I didn't want to be a girl, but I knew I could do a lot of the same stuff and some of the stuff they couldn't do because I had the strength being a boy…. I could do the stuff en pointe and it's fun."
— Robert Carter, in an ABC News Nightline interview, 2008.
Sources:
See also:
Robert Carter, Les Ballets Trockadero de Monte Carlo
HuffPost Arts Interviews Robert Carter Of Les Ballets Trockadero de Monte Carlo, Huffington Post
Why it's HOT to TROCK – 5 Les Ballets Trockadero de Monte Carlo ballerinas reveal all, Dance Tabs
BWW Interview: Theatre Life with Robert Carter, Broadway World
Men on Pointe, Dance Spirit
Dance History According to Drag, Jun 2007, Dancers Group
Video links:
Robert Carter, Youtube
Robert Carter performing "the swan," Youtube