Karlya Shelton-Benjamin
Colorado Concert Ballet (Colorado Ballet)
Dance Theatre of Harlem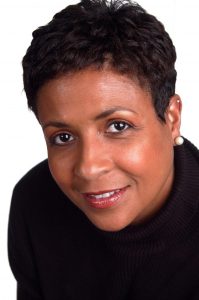 Karlya Shelton-Benjamin began her dancing career at the age of four in Denver, Colorado with the Colorado Concert Ballet (currently the Colorado Ballet) under the direction of Lillian Covilo and Friedann Parker. As she rose through the ranks of the Denver-based company, Shelton-Benjamin danced nearly every role in The Nutcracker. She also danced various soloist and principal roles in the company's productions of Giselle, Romeo and Juliet, Cinderella, and other ballets in the company's repertoire. At the age of 17, under the direction of Delores Kehr, Shelton-Benjamin was chosen by Mireille Briane and Oleg Briansky to be one of the first Americans (and the first dancer of color) to represent the United States in the prestigious Prix de Lausanne competition in Lausanne, Switzerland (1975). She was also awarded scholarships to both the School of American Ballet and the Dance Theatre of Harlem (DTH). She chose the latter and embarked upon a 10-year professional career studying with Arthur Mitchell, Karel Shook, William Griffith, Patricia Wilde, Tanaquil LeClercq, Alice Elliott, Mary Hinkson, and other notable teachers. During her career with DTH, she worked with such choreographers and masters of the dance as Choo San Goh, John Butler, Geoffrey Holder, Carmen de Lavallade, Frederic Franklin, Alexandra Danilova, John Taras, Louis Johnson, Glen Tetley, Agnes de Mille, Billy Wilson, Terry Orr, Domy Reiter-Soffer, Valerie Bettis, and Carlos Carvajal. Ms. Shelton-Benjamin received critical acclaim for her portrayal of Jill the Stable Girl in the compelling ballet Equus (Reiter-Soffer), the Mistress of Ceremonies in Graduation Ball (David Lichine), and for the third variation in Pas de Dix (Raymonda Variations, Petipa).  Some of her principal roles include The Russian Girl in Serenade (Balanchine), Stella in A Streetcar Named Desire (Bettis), Choleric in The Four Temperaments (Balanchine), and Desdemona in Othello (Butler). Ms. Shelton-Benjamin appeared with the company in two PBS television specials in the series Great Performances Dance in America: Dance Theatre of Harlem and Firebird. She has also danced in a Command Performance for Her Majesty the Queen Mother of England, as well as for former president and Mrs. Ronald Reagan in the first dinner of their administration at the White House.
In addition to various television advertisements for Dance Theatre of Harlem, Shelton-Benjamin also appeared in a national television commercial for Sugar Free Dr. Pepper®.
After leaving DTH, Shelton-Benjamin joined choreographer Igal Perry in the creation and debut of his first company Peridance, where she performed works created for her by Mr. Perry, John Butler, and Benjamin Harkarvy. In 1986, she chose to broaden her education and moved to Paris to study French: the language, the art of translation, and the French culture. Shelton-Benjamin returned to the US in 1989 fluent in French with diplomas in Business French and Translation and used the language to begin working in the world of fine jewelry for the house of Van Cleef & Arpels in both New York and Beverly Hills. In 1998, Shelton-Benjamin and her family relocated from Los Angeles to Oakland, California. Since moving to Oakland, Shelton-Benjamin has worked with Oakland Ballet on several occasions teaching company classes, as rehearsal director, and in 2000, as advisor to the Oakland Ballet.
Dance always being her first love, Ms. Shelton-Benjamin is never far from the dance world and is always willing to share her knowledge and experience with aspiring dancers, especially those of color. She has most recently worked with her long time friend Cleo Parker Robinson and her company Cleo Parker Robinson Dance in her hometown of Denver, Colorado. In 2016, Ms. Shelton-Benjamin managed the 2016 Summer Intensive Program for CPRD and has taught ballet classes to the professional company.
In 2003, Shelton-Benjamin created her own photography business, photography and design by Karlya™, exploring and performing another branch of her artistry. She enjoys doing portraiture and photographing children, families, food, and especially dancers.
Current website:
Social media:
Facebook K Shelton Benjamin
Instagram @ksheltonbenjamin