This year, IABD launched a new ballet audition for men of color
Last month, the International Association of Blacks in Dance's third annual ballet audition for women of color was expanded to include a separate audition for men.
The brainchild of Joan Myers Brown (founder of both Philadanco and IABD), the women's audition was created to specifically address the lack of black females in ballet. However, the success and attention that audition drew made the men feel left out, so IABD decided to give the men equal time this year.
Both auditions happen within IABD's larger conference, hosted this year by Lula Washington Dance Theatre. The week-long event of panel discussions, master classes, auditions and performances feels part–family reunion, part-retreat.
The electrically-charged atmosphere can feel foreign to some white ballet representatives, but it's an invaluable social education. Experiencing the way in which African Americans gather, interact and educate can explain why walking into a ballet school can feel cold and unwelcoming.
Here, white administrators can experience what it feels like to be one of a few, to stick out, to not know if you are authentically welcome or just being tolerated. I had conversations with some who were uncertain if their voices would be welcomed. Welcome to the African American experience.
This year's ballet auditions drew some of the original supporting organizations (San Francisco Ballet, Ballet Memphis, Pacific Northwest Ballet, Joffrey, Kansas City Ballet and Nashville Ballet) plus some newcomers (Atlanta Ballet, Oakland Ballet, New York City Ballet), although some chose to attend only the women's audition. The number wanting to attend at the last minute—and the distinct increase in the level of talent this year—prove the word is spreading.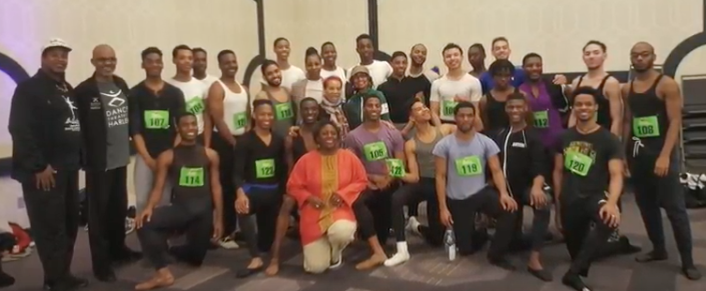 The male auditioners pose with IABD president Denise Saunders Thompson
Providing talented dancers with training and professional opportunities is the stated mission of the auditions. But another type of work happens behind closed doors, in a meeting with the representatives led by IABD president Denise Saunders Thompson and myself.
In it, Jonathan Stafford, head of the interim artistic team at NYCB admitted, "This is not something we have always been good at." He came to the conference along with Elise Drew, SAB's new manager of diversity and inclusion. "I have heard painful stories from the past," Stafford said, "which we must take responsibility for and learn from. Like many ballet companies around the country, we are now involved in a process of change that we hope will make the culture of our institution more diverse, inclusive and equitable. NYCB is now working to ensure that as more dancers from diverse backgrounds begin to enter the company, they are made to feel welcome and supported in all aspects of their careers. There is much work to do."
SFB assistant administrative director Christina Gray Rutter shared the success story of Raquel Smith who received a scholarship to SFB's school at IABD's first ballet audition in 2015: Now in level 8, she has performed with the company in The Nutcracker, Sleeping Beauty and been asked to learn Serenade. Smith returned to the IABD audition this year.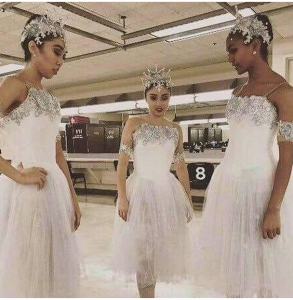 Raquel Smith's journey to San Francisco Ballet began at IABD's 2015 audition. In December, she performed with the company in Nutcracker.
SFBS faculty member Rubén Martín Cintas also shared his experience teaching master classes arranged by IABD for students of color. The first of these was held in Chicago last October; others have taken place in Washington, DC and San Francisco as a way to engage with African American communities and build a trusted network. Local instructors and students can sit in on the class and ask questions.
"I wanted to create an environment that allowed for an exchange and dialogue by everyone, 'a first date' if you will, and it was quite successful," Thompson said about the master classes. "I am open to having discussions with other organizations about this opportunity, however I'll really be looking at the entire organization and its authenticity regarding real inclusion, access and opportunity for black and brown dancers."
Next year, there are plans to expand the audition, creating a comprehensive ballet component to the IABD conference (which has traditionally focused on modern dance).
The results of this years auditions were promising: Of the 27 male dancers who attended, 18 received offers ranging from tuition scholarships for summer intensives to AGMA contracts. Of the 49 women at the female audition, 31 received offers to either attend a summer intensive, take a company class to see about an apprenticeship or join a second company.