Myrna Kamara
New York City Ballet (1984-1989)
Miami City Ballet: Principal
Béjart Ballet Lausanne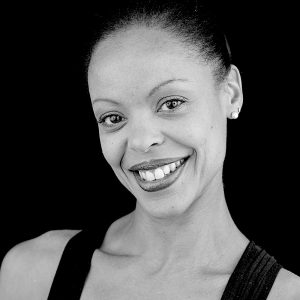 Myrna Kamara received her early ballet training with Ellen Gniadowska and Peggy Lynne in Baltimore, Maryland. After studying one year at the Washington Ballet School in DC, she pursued her studies at the School of American Ballet in New York. From 1984 to 1989, Ms. Kamara was a member of the New York City Ballet where she danced roles in ballets by George Balanchine, Jerome Robbins, Peter Martins, Eliot Feld, and Lar Lubovitch. During the 1989-90 season, Ms. Kamara danced in Bonn, Germany under director Youri Vamos, where the role of the Nubiana from Spartacus was created for her. Starting in 1990, Ms. Kamara was a principal dancer for Miami City Ballet, where she received critical acclaim for her performances in the Balanchine repertoire including the Arabian solo from the Nutcracker, the siren in Prodigal Son, Calliope in Apollo, the solo girl in Rubies, the Russian girl in Serenade, Allegro Brillante, Who Cares, Bugaku, Agon, Four Temperaments, and many more.
Her final company contract was with Maurice Béjart's company from 1996-1999 in Switzerland. During this period she performed several of his ballets, including the renowned Bhakti, Sacre du Printemps, Le Mandarin Merveilleux, L'oiseau de Feu, and Ballet for Life (Le Presbytere).
Kamara has appeared as a guest artist throughout the United States and Europe. One of her most distinguished and notable performances in the past 13 years has been at the Arena di Verona, where she portrayed the prima ballerina in the opera Aida. Special performances included Franco Zeffirelli's production of Aida at the Teatro alla Scala in Milan, Italy. Other tours included the Spoleto Festival, the Edinburgh Festival, and the Leonide Massine Festival and performances in South Africa, Portugal, Japan, and the Kennedy Center, to mention a few. She has also pursued teaching and coaching globally to young talents and is also currently an acclaimed guest artist.
Source:
Myrna Kamara's Website (page no longer active)
See also:
44 Minutes with Acclaimed Ballerina Myrna Kamara, Newly Swissed
A rare dancer rises with the Miami Ballet, Baltimore Sun
Myrna Kamara, Cary Ballet Conservatory
Social media:
Instagram @myrnakamara
YouTube BalletXtreme