Osiel GouneoBavarian State Ballet – Principal
Norwegian National Ballet- Principal

English National Ballet- Guest
the Royal Danish Ballet- Guest
Cuban native Osiel Gouneo, although still quite young, is already a celebrity of the international dance scene and renowned for his jumping power and outstanding technique. Born in 1990 in Matanzas, Cuba, he began his training at the Cuban National Ballet School in Havana in 2005. In 2008 he joined the Cuban National Ballet, where he was appointed a principal dancer in 2011. Afterwards, Osiel Gouneo danced with the Norwegian National Ballet for three years. With the beginning of the 2016/17 season, he joined the the Bayerisches Staatsballett as a principal dancer. He performed on stages such as the Coliseum in London, the Bolshoi Theatre in Moscow, the Lincoln Center in New York, the Paris Opera and the National Theatre Japan in Tokyo. Besides his performances with the Bayerisches Staatsballett, Osiel Gouneo also guests as a principal dancer with the English National Ballet, the Royal Danish Ballet and numerous dance festivals and galas.
(Source: https://www.staatsoper.de/en/biographies/detail-page/gouneo-osiel.html)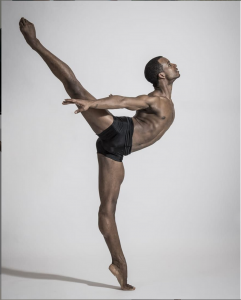 Awards
Gold medal Cuban Grand Prix
Gold medal Beijing International Ballet Competition
Silver medal Varna International Ballet Competition
Best Newcomer on the international dance scene in the annual Positano Awards
Repertoire
Romeo in Romeo and Juliet (John Cranko, Michael Corder)
The Bluebird in Sleeping Beauty
The Moor in Petrushka
Prince in The Nutcracker
Prince in Swan Lake (Alicia Alonso, Derek Dean)
Prince in Cinderella
Basilio in Don Quixote
Franz in Coppélia
Des Grieux and Lescaut in Manon
Escamillo in Carmen (Liam Scarlett)
Debuts with the Bayerisches Staatsballett
Albrecht in Giselle (P. Wright/M. Petipa)
Lead Soloist 1st movement in Symphony in C (G. Balanchine)
Solor in La Bayadère (M. Petipa/P. Bart)
Title role in Romeo and Juliet (J. Cranko)
Title role in Spartacus (Y. Grigorovich)
Grand Pas de deux from Don Quijote (M. Petipa)
Philostrat / Puck in A Midsummer Night´s Dream (J. Neumeier)
Basilio in Don Quijote (R. Barra/L. Minkus)
Dancer in Borderlands – Portrait Wayne McGregor (W. McGregor)
Abderakhman in Raymonda (M. Petipa/R. Barra)
1st solo couple in Jewels (Rubies) (G. Balanchine)
Günther in The Nutcracker (J. Neumeier)
Gaston Rieux in The Lady of the Camellias (J. Neumeier)
Onegin in Onegin (J. Cranko)
Links to Articles and Reviews:
Gold for Cuban dancer Osiel Gouneo in China.
English National Ballet's *Spectacular* Le Corsaire
Social Media:
Instagram: @osielgouneo