Mabel Freeman and Howard University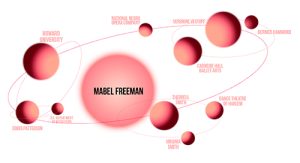 The dance scene in Washington DC in the 1920s and 1930s was intrinsically tied to Howard University. Mabel Freeman danced at Howard while simultaneously teaching at her studio, and her students occasionally performed at Howard's theater. Bernice Hammond and Doris Nichols Patterson, two of Freeman's students, also studied at Howard, earning degrees in dance before opening up their own studios. The theater at Howard was also used for many performances by different studios, even for people who did not study there.  
Louis Johnson and Howard University
Johnson oversaw multiple Black arts symposiums at universities and colleges such as Yale, Howard, Morehouse, and Virginia State. He taught the first-ever Black theater course for Yale, and in 1975, founded Howard University's Dance Department.
Source:
Louis Johnson's Biography, The History Makers
More about Howard University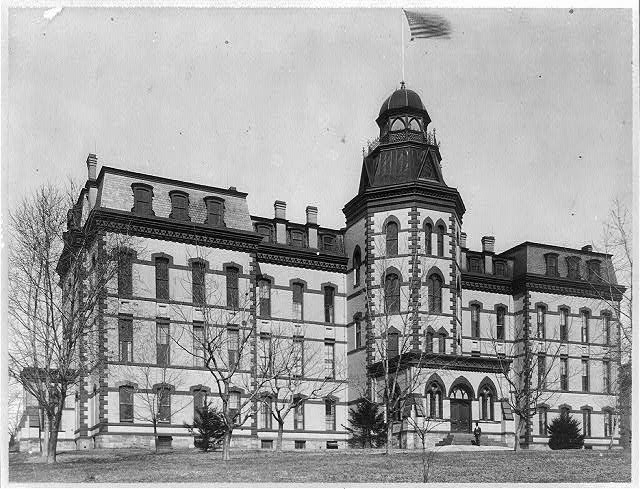 Howard University (Howard or simply HU) is a private, federally chartered historically Black university (HBCU) in Washington DC. It is classified among "R2: Doctoral Universities – High research activity" and accredited by the Middle States Commission on Higher Education.
Tracing its history to 1867, from its outset Howard has been nonsectarian and open to people of all sexes and races. It offers undergraduate, graduate, and professional degrees in more than 120 programs, more than any other HBCU in the nation.
Sources:
Howard University, Wikipedia
Early Photographs of the Howard University, ca. 1900
Howard University Dance Department in the 1920s-1940s
At Howard University, the Physical Education Department offered a variety of courses in dance, including electives for non-majors. According to the Howard University Physical Education Department's objectives, "the students who majored in physical education were expected to develop themselves physically, to study the history of the dance and its fundamental principles and types of movement, to gain a knowledge of various dance materials for all age levels, to gain ability to read, interpret, review and perform dances, to create original dances and to become proficient in the teaching of the dance." The physical education majors dance courses included a semester of fundamentals and theory of dance and a semester in tap, modern and folk dancing. As for the general student body, elective dance sections offered tap, modern and folk dancing. The aim of most dance courses was the development of a good sense of rhythm and movement, a genuine interest in dance materials, and the ability to motivate the study and reproduction of authentic costumes.
The Women's Physical Education Department was headed during the 1920s through 1940s by Maryrose Reeves Allen, a graduate of the Sargent School of Physical Education in Massachusetts. Under Allen were Frances C. Haddock, who instructed the physical education classes, and Violet Warfield, who was the dance instructor. Warfield joined the Howard University Faculty in 1927. A graduate of the Sargent School and Columbia University, she taught the majority of the dance courses in the department. Other dance courses, mainly the ballet, were taught by Senia Solomonoff from Russia.
Source:
A Survey of Black Dance in Washington, Terlene D. Terry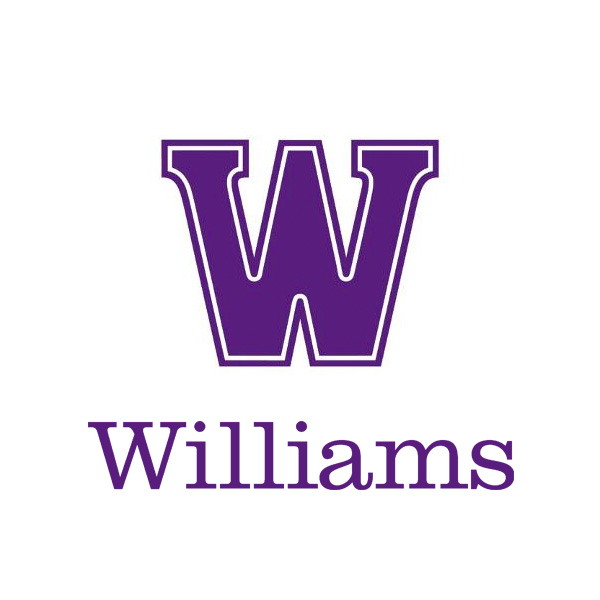 Keshini Cardozo

Victoria Merengwa
Neenah Young
Nicole Young