Arthur Mitchell/Dance Theatre of Harlem and The Ford Foundation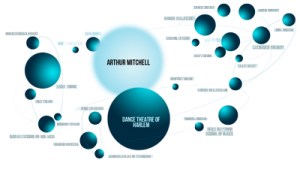 In 1970, Arthur Mitchell sought a grant from the Ford Foundation. "They said they couldn't give it to me because I was not a non-profit, tax-exempt organization, so I then asked if they would give it to the Harlem School of the Arts specifically for the dance program I was doing and they agreed. So that was my first grant."
Source:
Arthur Mitchell's Dance Theatre of Harlem, Columbia University Libraries
More about the Ford Foundation
The foundation was established January 15, 1936 in Michigan by Edsel Ford (president of the Ford Motor Company) and two other executives "to receive and administer funds for scientific, educational and charitable purposes, all for the public welfare." During its early years, the foundation operated in Michigan under the leadership of Ford family members and their associates and supported the Henry Ford Hospital and the Henry Ford Museum and Greenfield Village, among other organizations.
After the deaths of Edsel Ford in 1943 and Henry Ford in 1947, the presidency of the foundation fell to Edsel's eldest son, Henry Ford II. It quickly became clear that the foundation would become the largest philanthropic organization in the world. The board of trustees then commissioned the Gaither Study Committee to chart the foundation's future. The committee, headed by California attorney H. Rowan Gaither, recommended that the foundation become an international philanthropic organization dedicated to the advancement of human welfare and "urged the foundation to focus on solving humankind's most pressing problems, whatever they might be, rather than work in any particular field…." The report was endorsed by the foundation's board of trustees, and they subsequently voted to move the foundation to New York City in 1953. The Ford Foundation's first international field office opened in 1952 in New Delhi, India.
The board of directors decided to diversify the foundation's portfolio and gradually divested itself of its substantial Ford Motor Company stock between 1955 and 1974. This divestiture allowed Ford Motor to become a public company. Finally, Henry Ford II resigned from his trustee's role in a surprise move in December 1976. In his resignation letter, he cited his dissatisfaction with the foundation holding on to their old programs, large staff and what he saw as anti-capitalist undertones in the foundation's work. In February 2019, Henry Ford III was elected to the Foundation's Board of Trustees, becoming the first Ford family member to serve on the board since his grandfather resigned in 1976.
For many years, the foundation topped annual lists compiled by the Foundation Center of US foundations with the most assets and the highest annual giving. The foundation has fallen a few places in those lists in recent years, especially with the establishment of the Bill and Melinda Gates Foundation in 2000. As of May 4, 2013, the foundation was second in terms of assets and tenth in terms of annual grant giving.
In November 2020, Dance Magazine's Rachel Caldwell described the Ford Foundation as "an independent, nonprofit $13 billion social justice institution" that has "bequeathed millions in game-changing financial support to dance institutions such as Dance Theatre of Harlem and the School of American Ballet."
The organization's current president, Darren Walker, a gay, Black man from a working class family, has kept this tradition alive throughout his tenure with the institution.
The foundation describes their "America's Cultural Treasures" initiative as one intended "to acknowledge and honor the diversity of artistic expression and excellence in America and provide critical funding to organizations that have made a significant impact on America's cultural landscape, despite historically limited resources."
Through this initiative, the foundation has given numerous grants to BIPOC companies, in Walker's effort to "address racial and financial inequity in the arts." Some of the Ford Foundation's major grants for BIPOC companies include the $4 million that was awarded to New York's Ballet Hispánico in 2020 and a $1 million grant for Dance Theatre of Harlem in 2006 (after the company and school had to close due to lack of funding in 2004). Arthur Mitchell also said that the Ford Foundation, "played a significant role in the founding of DTH thirty-seven years ago."
Sources:
Dance Magazine Chairman's Award Honoree: Darren Walker, Dance Magazine
Felicidades, Ballet Hispánico, On Being Named One of America's Cultural Treasures By Ford Foundation, Dance Enthusiast
Ford Foundation Awards $1 Million to Dance Theatre of Harlem, Philanthropy News Digest
FAQs: America's Cultural Treasures, Ford Foundation
The Ford Foundation Wikipedia