Fabrice Calmels
Pennsylvania Ballet
Boston Ballet
Joffrey Ballet: Principal (2002-2019)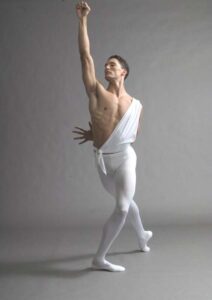 Fabrice Calmels was born in France to an Eastern Caribbean (Guadeloupe) mother and a French father. Following his sister, Calmels started ballet classes at the age of three. At age 11, Calmels left home to attend the prestigious Paris Opera Ballet School, under the direction of Claude Bessy. Following his graduation from the Paris Opera Ballet School, Calmels moved to the United States, hoping to find more opportunity for a dancer of his exceptional height. He furthered his training by joining The Rock School and danced with the Pennsylvania Ballet. He subsequently joined Boston Ballet, under the direction of Anna-Marie Holmes, and also studied at The School of American Ballet.
After September 11, 2001 Calmels was unable to acquire a visa and returned home to France. There he joined Paris' most famous cabaret, LIDO de Paris, where he honed his partnering skills by performing the show's acrobatic pas de deux.
In 2002, Calmels joined the Joffrey Ballet in Chicago, under the direction of company co-founder Gerald Arpino, as one of the last dancers hired by Arpino. In 2004, at age 23, Calmels became a lead dancer at the Joffrey Ballet, notably through his principal role as Apollo. He was coached by Sir Anthony Dowell for the title role of Oberon in Frederick Ashton's A Midsummer Night's Dream. He was also lauded for his performance of the title role in the Joffrey Ballet's premiere of Lar Lubovitch's Othello. After almost two decades, Calmels left the Joffrey in 2019 to pursue independent projects.
In addition to his role as a performer, Calmels has significant experience as a teacher, coach, and choreographer. Calmels has also appeared on television, including multiple times as a guest judge on So You Think You Can Dance, and has a career in modeling. In September 2014, Calmels established and set a Guinness World Record for Tallest Ballet Dancer in the World with an official height of 199.73cm (6 feet 6.63 inches).
Source and current website:
Additional sources:
Fabrice Calmels on His Decision to Leave the Joffrey Ballet After Nearly 19 Years, POINTE
Fabrice's Question of the Week #2, Come Dance with Fabrice Calmels, ChicagoNow
For world's tallest dancer, Fabrice Calmels, height is only a number, Dance Informa
The World's Tallest Ballet Dancer Wasn't Going To Let Height Stop Him From Pursuing His Dreams, The Huffington Post
See also:
Fabrice Calmels, Joffrey Ballet Principal Dancer, Conversations on Dance
Joffrey Ballet Principal Dancer Fabrice Calmels Is Ready for His Fashion-World Takeover, W Magazine
Video links:
Michael's Minute: Interview with Fabrice Calmels
Moments Before Curtain: Fabrice Calmels, Chicago Tribune
Social media:
Instagram @fabricecalmels