Johaar Mosaval
Sadler's Wells Ballet (The Royal Ballet): Corps de Ballet (1952-1956), Soloist (1956-1960), Principal (1960-1965), Senior Principal (1965-1974)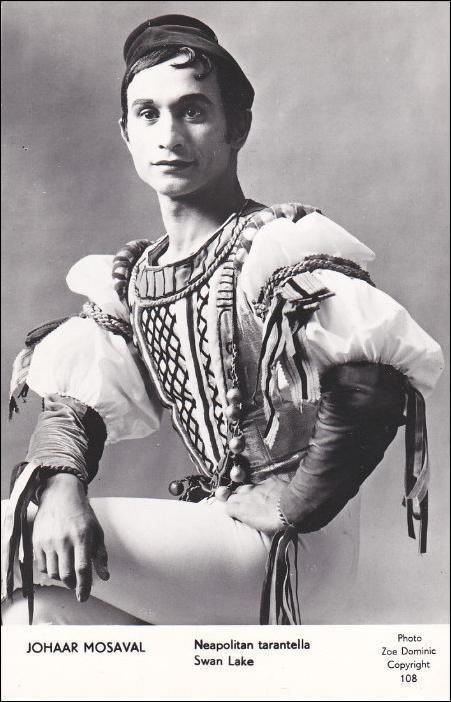 Born the eldest of 10 children on January 8, 1928 in Cape Town, South Africa, Johaar Mosaval started gymnastics before dancer Dulcie Howes suggested he join the University of Cape Town Ballet School. He started training at the school in 1947, though he was not welcomed in the predominantly white environment, and his Muslim parents did not support the pursuit.
When he was "smuggled" into an audition at the whites-only Alhambra Theatre, dancers and choreographers Anton Dolin and Alicia Markova identified Mosaval's talents and arranged a scholarship for him at Sadler's Wells Ballet School. Not only did his supporters help when he attended this initial audition, they raised the funds necessary for Mosaval to move to England and train. According to Mosaval, he was the first Black student at the school.
He then joined Sadler's Wells Theatre Ballet (now called The Royal Ballet) in 1952, was promoted to soloist in 1956, to principal in 1960, and senior principal in 1965.
Mosaval's repertoire with the company included Sir Frederick Ashton's Les Patineurs (the Blue Boy) and The Dream (Puck), The Sleeping Beauty (Bluebird), and John Cranko's Pineapple Poll (Jasper the Pot Boy) and The Lady and the Fool (Bootface).
The Royal Opera House hosted Queen Elizabeth II's 1953 coronation, in which he performed, a momentous event for Black dancers and an honor for Mosaval.
Following his 25 years with Sadler's Wells, Mosaval returned to Cape Town. Here he became the first Black dancer to perform on the Nico Malan Opera House stage when he appeared in Petrushka with The Cape Performing Arts Board Ballet Company.
In 1977, the retired dancer opened a ballet school, which was unfortunately shut down after it was found to be multiracial, an illegal practice in the time of apartheid.
Mosaval's list of awards and honors is extensive: he was one of the first dancers to earn a Professional Dance Teaching Diploma from the Royal Academy of Dance and has received the Winston Churchill Award; Queen Elizabeth II Silver Jubilee Medal (1977); Western Cape Arts, Culture, and Heritage Award (1999); Premier's Commendation Certificate (2003); Cape Tercentenary Foundation Molteno Gold Medal for lifetime achievement (2005); Civic Honours from the City of Cape Town; a lifetime achievement award for dance from the Arts and Culture Trust (2016); The Order of Ikhamanga in Gold by President Cyril Ramaphosa (2019); and an Honorary Doctor of Music Degree from the University of Cape Town (2020).