Victoria Jaenson
Charlotte Ballet II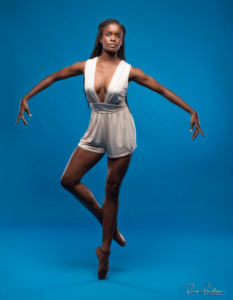 Born in Uganda, Victoria Jaenson was adopted when she was two months old, moved to the Ivory Coast with her family, and finally landed in Guilford, Vermont. Despite being unaware of any Black ballet dancers to look up to during her youth, Jaenson planned on becoming a professional dancer. She began her dance journey at age seven at Kelly's Dance Academy and the Brattleboro School of Dance. At age 12, she attended a Dance Theatre of Harlem summer intensive, where she was in class with dancers of color for the first time. She trained later at the Rock School for Dance Education on full scholarship, the University of Hartford's Hartt School (as a Dance Performance and Ballet Pedagogy major), and Atlanta Ballet's professional summer intensive program. At the Boston Youth American Grand Prix Semi-Finals in 2016, Jaenson was listed in the Top 12 of the Classical Division and invited to compete at the New York Finals.
Though she was not initially hired by Charlotte Ballet II, a year after her first audition, Jaenson was offered a position with the company in 2018.
As a CB II member, Jaenson performed in Jean-Pierre Bonnefoux's The Nutcracker (as the Spanish Dance lead) and Peter Pan, Christian Spuck's Leonce and Lena, and Othello (as Desdemona). She has also taught on the faculty at the Charlotte Ballet Academy.