Sylvester Campbell and Jack Carter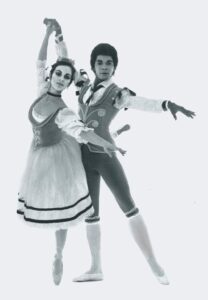 Jack Carter worked with Sylvester Campbell during his time with the New York Negro Ballet. After the company disbanded, Carter helped Campbell acquire other jobs. Campbell began working on the BBC, performing weekly on a show called Journey into Melody, for which Carter choreographed and Robert Farnon's Canadian orchestra performed. Campbell left the show, and he and Carter would not cross paths until years later at the Royal Winnipeg Ballet. Carter choreographed the Pas de Deux Pomantique, which was one of Sylvester's famous performances while touring with the Royal Winnipeg Ballet. They also went on to work together when Campbell danced at the Dutch National Ballet.
More about Jack Carter
Jack Carter was born in 1917 in England and found great interest in Russian music and ballet. Although he was trained as a musician and dancer, he always had the ambition to be a choreographer. He left school and started training at the Sadler's Wells Ballet School in 1938 before joining the military in 1939. After his six-year stint with the military, Carter worked in London and Paris with famous ballerinas like Vera Volkova, Anna Northcote, and Olga Preobrajenska. He created pieces for many small companies around London, which were successful, but he was noticed mostly for his work with the Ballet Workshop. At the Little Mercury Theatre in Notting Hill, he created a work called Overture in 1952. He also created Echo and Narcissus, which was performed by John Gilpin and Nathalie Krassovska and appeared on television. 
In 1956, Carter created his biggest hit, The Witch Boy, which was based on the American ballad Barbara Allen. This piece enabled him to work with companies all over the world. Norman McDowell and Carter opened their own company in 1964 called the London Dance Theatre, where Carter choreographed his favorite piece, Agrionia. The company fell under funding issues and merged with the London Festival Ballet, where Carter created iterations of Swan Lake and The Nutcracker and revamped old Romantic ballets. In the 1970s, Carter made two works for the Royal Ballet. Three pieces to Japanese music for the Scottish Ballet and his other works around the world have been kept alive since his death in 1999.
Sources:
Shrivenham Heritage Society
Jack Carter obituary, The Guardian
Sylvester Campbell, LINES Ballet
Obituary: Jack Carter, The Independent