Janet Collins and House of Flowers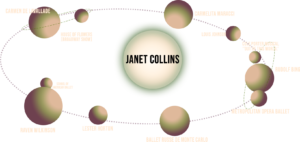 Janet Collins was not in House of Flowers, but her cousin Carmen de Lavallade, whom Collins had a great influence on, played a role in the show. Carmen de Lavallade played the role of Carmen in the show and it was her Broadway debut in 1954. House of Flowers was also the show that introduced de Lavallade to her husband, Geoffrey Holder. 
Sources:
Biography of Carmen de Lavallade, Free to Dance
Emory acquires archive of dancers Carmen de Lavallade and Geoffrey Holder, Emory
More about House of Flowers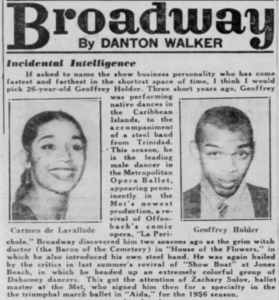 House of Flowers is a musical by Harold Arlen, who wrote the music and lyrics, and Truman Capote, who also wrote the lyrics and the story the Broadway show is based on. This was Capote's only musical. The show received generally poor reviews. However, the dance rhythm-infused score was praised for its mix of blues and calypso. The opening date was December 30, 1954, and the closing date was May 21, 1955. The show had a total of 165 performances.
Sources:
House of Flowers – 1954 – Broadway, Broadway World
House of Flowers, Internet Broadway Database