Janet Collins and Rudolf Bing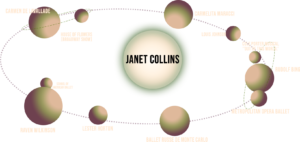 Rudolf Bing was the director of the Metropolitan Opera Ballet when Janet Collins was brought in as the prima ballerina in 1954. Zachary Solov, the ballet master at the Metropolitan Opera, persuaded Bing to hire her, thus making Collins the first Black prima ballerina at the Met. Bing also went on to hire more African Americans for the company and the opera, such as Leontyne Price and Marian Anderson. Bing helped eliminate the race barrier at the Met.  
Sources:
Celebrating the Life of Janet Collins, an African-American Pioneer in Dance, New York Public Library
More about Rudolf Bing
Rudolf Bing, also known as Sir Rudolf, was born in Vienna, Austria but was forced to flee due to the aftermath of World War I. Bing moved to the UK and other countries in Europe, where he managed the music of leading opera companies. Due to this background, Bing was brought to the Met as the general manager and then director from 1950 to 1972. At the Met, Bing significantly contributed to making the company one of the most prominent on the world stage. He used his contacts from Europe to draw notable international stars to the Met and brought talented dancers and singers regardless of race. In doing this, he offered significant new opportunities for Americans that most other dance companies were not offering. 
Sources:
METROPOLITAN OPERA IMPRESARIO RUDOLF BING DIES AT 95, Washington Post
Rudolf Bing, Titan of the Met, Dies at 95, New York Times