Robyn Nash
Capitol Ballet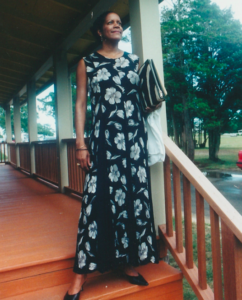 Robyn Bandele Nash, Esq. was a dancer and attorney born in Lagos, Nigeria to Robert J. Nash and M. Teixeira Nash. As a child, Nash moved to Washington DC and started her dance training under Doris Jones and Claire Haywood at three years old. 
As a member of the Capitol Ballet, Robyn Nash performed in Hinton Battle's Hinty on November 20, 1977 at the Lisner Auditorium as well as in Doris Jones' Bach Vibrations at the company's 1988 revival alongside Treanna Reid-Alexander and Rodney Green. 
Nash earned her BA in journalism in 1977 and law degree in 1989, both from Howard University. In addition to her career in law, she established Theatre Movement Exchange, Inc. and performed into the 1970s. 
Nash passed away at age 66 on June 25, 2020 after living with cancer for 14 years.
Sources:
Capitol Ballet Capital Night, The Washington Post
Robyn Bandele Nash, 66, Vineyard Gazette
Program: The Capitol Ballet Company 1976-77 Concert Series