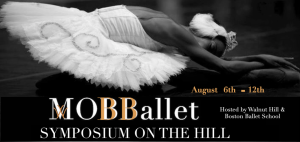 Meet our 2023 Hosts

MoBBallet Symposium on the Hill:
A space that centers Blackness but welcomes all!
..
WHAT'S NEW ABOUT THE SYMPOSIUM ON THE HILL?
A LOT!  The 2023 Symposium on the Hill is being hosted by Boston Ballet School and Walnut Hill School for the Arts, and takes place on the beautiful Walnut Hill campus in Natick, MA, just outside of Boston. MoBBallet (Memoirs of Blacks in Ballet) will have access to their state-of-the-art facilities, which includes 3 large studios, blackbox theaters, a gym, generous grounds, and we are now able to offer both a daily meal plan as well as dormitory lodging.

Walnut Hill has opened their dormitory and dining facilities to the MoBBallet Symposium. Participants can choose from double or quad rooms, in Bishop Hall. Each room is furnished with a desk and desk chair, a bookshelf, a bureau and a bed for each occupant.  All dorms have common spaces for gathering. The dining hall will provide 3 meals a day for all participants.

GROUP RATES AVAILABLE
INDIVIDUAL RATES
Dancer Tuition w/Room and Board- $1800

Commuter Dancer Tuition w/3 meals included-$1400
GROUP  RATES
Dancer Tuition; group of 8+ w/Room and Board
$1400 per participant
$1350 (when accompanied by chaperone living in the dorm)
Commuter Dancer Tuition: group of 8+ w/3 meals
$1050
The MoBBallet Symposium on the Hill offers:
High caliber dance training and mentoring of Black ballet dancers by faculty and mentors that look like them.
Personal Development for students, choreographers, dance educators, studio owners, and scholars led by industry professionals.
Pathways to Performance Choreographic Program to support the development of Black ballet choreographers.
A platform for scholars in higher education and dance educators to present and engage in continuing education and discourse via panels and town hall sessions.
Programming that addresses and interrogates the state of the arts, offering opportunities for the dance community to liaise with ballet leadership.
Ballet Course for Intermediate and Advanced Dancers

Our intermediate and advanced ballet course centers Blackness both in our students and faculty. Participants will not only have the opportunity to learn from our elite and diverse faculty, but also to truly connect with them as they learn about (Black) ballet history, discuss body image and aesthetics, and discuss training and higher education. Our Advanced track is designed to support dancers on the cusp of entering the professional realm by pairing them with a personal mentor who will provide individualized coaching, feedback, and mentorship, both in and outside of the studio.
Ballet Course Classes: 
Technique
Pointe
Allegro
Variations
Contemporary
Corps de ballet
Repertory (advanced)
Body maintenance
Personal Development Programming:
Icon Talks
Dance history
Body image workshop
Nutrition and cooking class
Screenings of films
Pointe shoe workshop
Physical therapy workshops   …and more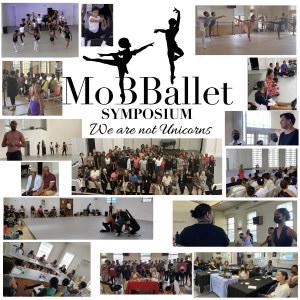 Dance Faculty and Mentors thus far:
Debra Austin – Carolina Ballet
Anjali Austin- Formerly DTH, Florida State University
Allen Barnes – Formerly  Ballet Frankfurt
Chandra Moss-Thorne – Swarthmore College, Kitchen Table Dance Collective
Erica Edwards – Formerly danced with Joffrey Ballet, Cultivating Better Tomorrows
Ramon Flowers- Formerly Pennsylvania Ballet, Ballet Frankfurt
William Isaac – Kymera Dance Company
Caroline Rocher Barnes – Towson University
Troy Brown- Independent Teacher and Coach
Miranda Silveira- Reframing the Narrative, Formerly San Francisco Ballet, Joffrey Ballet
Kareen Pauld Camargo- Miami City Ballet
REGISTRATION FEE: $150.00 (applied to tuition)
PROGRAM FEE (INCLUDES 3 MEALS daily): $1400.00
PROGRAM FEE With ROOM & BOARD: $1800.00
Dance Educators and Scholars Forum (In person and Virtual)
MoBBallet Symposium will not just break the mold, it will build a new one by drafting a blueprint for ballet and beyond.
Dance teachers plant the first seeds in students.
The Dance Educators and Scholars Forum is a space for dance educators in divergent educational spaces (conservatory, studio, academia). All these educational spaces are vital aspects of our artistic ecosystem. This historical, intellectual, artistic, highly curated forum will focus on shifting the culture of ballet training, and developing a lens, and practice that centers, IDEA, cultural competence and the students personal development and humanity. Using the divergent structures of the "Ballet School" and that of the "Academy" as tools, dance educators will be able to share their theories, methodologies, barriers and queries around how to create safe, healthy, culturally competent, decolonized spaces that produce well trained, completely formed humans!
The Educators and Scholars Forum offers: lectures, panels and workshops lead by MoBBallet Founder Theresa Ruth Howard, industry professionals and presenting scholars.
SESSIONS INCLUDE
Teacher Heal Thyself:
Examining effects of generational trauma in Ballet training
How inherited trauma presents in the studio
Teacher Educate Thyself:
Beyond the "barre" Education and Personal:
Cultural Competence and I.D.E.A. in the Studio
Ballet ]History
Decolonizing our Lenses:
Interrogating the implicit biases due to our ballet socialization
Program/class/course Identity
Program/ Studio Culture
Designing a Student Centered Culture
Mission, Vision, Values
(individual/faculty/program )
New Agreements around Communication
Crafting a New Studio Culture
CALL FOR PAPERS ON:
Black dance archives and history
Anti-racist and inclusive pedagogy
Decolonizing ballet/curriculum
Organizational and department culture
Rethinking pedagogy and curriculum
I.D.E.A. in ballet
Black dance archives and history
Teaching through intersectionality
Reimagining dance history
Cultural competence in the studio
For questions or information contact: chandramossthorne@gmail.com
REGISTRATION FEE: $150.00 (applied to tuition)
PROGRAM FEE (INCLUDES 3 MEALS daily): $1000.00
PROGRAM FEE With ROOM & BOARD: $1350.00
Pathways To Performance Choreographic Program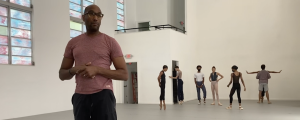 MoBBallet's next focus is on Black ballet choreographers and those of color. In keeping with MoBBallet's 360˚ approach to transforming the field of ballet, Pathways To Performance (PTP) cultivates and mentors Black choreographers (and those of color) who are working specifically in the ballet idiom. PTP supports Black contemporary choreographers (and those of color) who are interested in investigating working in the ballet genre, while helping established but unknown and overlooked makers break glass ceilings that have prevented them from leveling up in the dance world, by providing concrete opportunities for them to create work and have it presented on main stages around the US and beyond.
Program Director:  Christian Von Howard, Montclair State University
Mentors to date:
Donald Byrd

Jennifer Archibald

Helen Pickett
REGISTRATION FEE: $150.00 (applied to tuition)
PROGRAM FEE (INCLUDES 3 MEALS daily): $1200.00
PROGRAM FEE With ROOM & BOARD: $1650.00