Bibliography:
Arthur Mitchell's Orbit:

Amsterdam News: Cosmopolitan Review: remembering ballerina Tanaquil le Clercq
Ballet Review: Reprint from Ballet Review 41-3 Fall 2013
Dance Magazine: Arthur Mitchell Talks Race and Balanchine
Gale Biography: Katherine Dunham 
The History Makers: Louis Johnson's Biography 
Maynard, Olga. "Arthur Mitchell and the Dance Theater of Harlem." Dance Magazine, March 1970, 52–64.
New York Times: 
My Surprising Duet With Arthur Mitchell in Cold War Moscow (Published 2018) 
Talley Beatty, 76, a Leader In Lyrical Jazz Choreography (Published 1995)
Louis Johnson, 90, Genre-Crossing Dancer and Choreographer, Dies
Mabel Freeman's Orbit: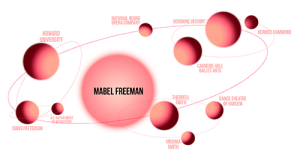 Shapes of American Ballet by Jessica Zeller
Terlene D. Terry's Dissertation: https://dra.american.edu/islandora/object/thesesdissertations:7839/datastream/PDF/view 
Washington Post article on Therrell Smith: https://www.washingtonpost.com/archive/local/1998/06/17/celebrating-elegance-in-a-chaotic-world/5093191f-824f-4cb4-8c29-1d072c0b4eca/ 
The University of Arizona Vaudeville Museum: https://vaudeville.sites.arizona.edu/node/46 
Howard University Wikipedia Page: https://en.wikipedia.org/wiki/Howard_University
Mel Tomlinson's Orbit:

Amsterdam News: 
Mel A. Tomlinson returns with N. C. Dance Theater at Joyce
Mel Tomlinson: The New York City Ballet explosion
The Christian Science Monitor: DANCE: Boston Ballet Artistic Director Earns Kudos for 10 Years of Inclusiveness Bruce Marks is recognized for his embrace of inner-city youth
Greensboro News: BALLET TO BOOM BOXES, N.C. DANCE THEATER HAS IT ALL
The News Observer: Successful dancer from Raleigh returns to teach students
The New York Times:
Dance: Ailey Presents 'Night Creature'
City Ballet: Tomlinson Makes Debut in 'Agon'
Salvatore Aiello's Website 
Tomlinson, Mel, and Claudia R. Folts. Beyond My Dreams. TurningPointPress, 2018. 
Doris-Jones' Orbit: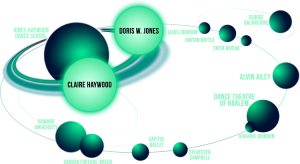 The History Makers: https://www.thehistorymakers.org/biography/doris-jones-39
New York Times: https://www.nytimes.com/2006/04/04/arts/dance/doris-w-jones-92-ballet-dancer-who-founded-school-for-blacks-is.html
Washington Post: https://www.washingtonpost.com/archive/lifestyle/2006/03/23/opportunitys-choreographer-span-classbankheaddoris-jones-gave-black-students-a-toehold-in-the-dance-worldspan/783a91e1-2184-47da-b5c8-59ea67200164/
Pacific Radio Archives: https://www.pacificaradioarchives.org/recording/wz0117
Lavinia Williams' Orbit: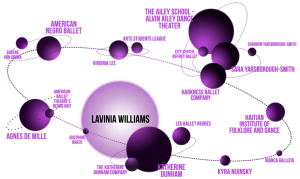 https://search-proquest-com.ezproxy2.williams.edu/docview/427339696/fulltext/393701FF3BAC4DDFPQ/1?accountid=15054
https://www.oxfordreference.com/view/10.1093/acref/9780195173697.001.0001/acref-9780195173697-e-1861?rskey=pciUOv&result=1
https://en.wikipedia.org/wiki/Lavinia_Williams
https://www.jstor.org/stable/41716762?seq=1#metadata_info_tab_contents
https://www-jstor-org.ezproxy2.williams.edu/stable/41715257?sid=primo&seq=1#metadata_info_tab_contents