Pioneering dancer proves her point(e)
Debra Austin of the Carolina Ballet was the first African-American woman to become a principal dancer with a major American ballet company, but it won't be her beribboned slippers on display at the National Museum of African American History and Culture when it opens in Washington, D.C., in September.
Instead, the museum has the pointe shoes of Lauren Anderson, who became a principal dancer for the Houston Ballet eight years after Austin achieved the title at the Pennsylvania Ballet.
The story of how Anderson's shoes are getting the spotlight – and why, for a while, the museum thought Anderson held claim to Austin's distinction – is proof of the tenacity of an error once it hits the internet, and an indicator of how hard it can be for African-Americans to have their history accurately told.
It's important, one dance historian and former ballerina with the Dance Theatre of Harlem says, "Because African-American history is American history."
The mix-up came to Austin's attention last week, when she saw social media posts celebrating the museum's acquisition of Anderson's shoes and calling Anderson the first black principal ballerina for a major U.S. company.
The problem was, "It's just not true," said Austin, now 60. "And you can't just erase history."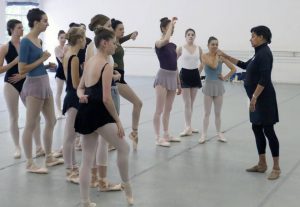 Courtesy of Houston Ballet