Letter From The Editor…
It has been an exciting few months and a great deal has transpired. June 18th 2015 I was a panelist for "Race and Dance Townhall: REAL TALK" a breakout session at the Dance/USA conference in Miami Florida. It was there that I announced the creation of MoBBallet. Kaisha S. Johnson co-founder of Women of Color in the Arts (WOCA) and fellow panelist invited me to a post session gathering. There we, women of color in the arts had a wonderful post mortem sharing our perceptions of the of the event. At the end of the gathering I had the opportunity to speak with a woman named Bahia Ramos. In the midst of our conversation about 80's pop culture, she expressed interest in supporting my newborn organization. She is the arts program director of the Knight Foundation. I was taken aback, this was my first foray into this world and though I knew that funding was a major part of getting the work done, two hours after announcing that I had formed an organization I was not expecting a person connected to such a prestigious granting body to approach me!  I tried to keep my cool, expressed my inexperience in these matters, but she assured me that she would "walk me through it" and that she did.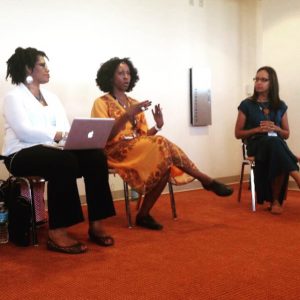 On September 21, 2016,  The John S. and James L. Knight Foundation (Miami, FL) announced that MoBBallet was one of the thirteen Philadelphia arts groups to receive new funding to create or present art that engages, educates and delights Philadelphia residents in ways that reflect the rich diversity and identity of Philadelphia. MoBB was awarded a $50,000 grant to create a multimedia digital exhibition detailing the the history and stories of Philadelphia's black ballerinas including: Joan Myers Brown (founder and artistic director of The Philadelphia Dance Company) Delores Browne (The New York Negro Ballet Company), and Judith Jamison (international dance star and Artistic Director Emerita of The Alvin Ailey American Dance Theater). This project promises to unveil the beautiful complexities of what it took to be a black classical artist in a time of segregation, the civil rights movement and beyond. The installation will bring forth the role that the city of Philadelphia has played in American Ballet, the lineage and the legacy of African American artists and the often unknown contributions they've made to the art form. I want to thank Ms. Ramos, and Amanda Thompson and the whole Arts team at the Knight Foundation for the work you do, and the support (financial and emotional) that you give.
I am thrilled that independent filmmaker Roberta Friedman has come on board to produce these digital installations. Ms. Friedman's pioneering work in interactive video, premiered at the Museum of Contemporary Art in Los Angeles, and was installed at the Whitney Museum of American Art Biennial 1987, the Guggenheim Museum, and the Pompidou Centre in Paris, among other galleries. In addition, she and her Magic Circle Productions partner Dan Loewenthal presented a major video Installation at the BAC Films.
I am so excited by the projects we are currently working on. our Web-designer Natasha Hulme (luxx55.com) is a constant creative and emotional collaborator in MoBB's vision, she is in the process of designing a truly elegant and dynamic way to bring this information to you. It warms my heart to share that Madeline Crawford, a former ballet student of mine from the Ailey School has joined the team. She is truly a gift, her enthusiasm, attention to detail and her impeccable work ethic is just what MoBB needs. Former Dance Theatre of Harlem ballerina, now dance historian Dr. Joselli Audain Deans is working on Knight project as well and contributing her valuable resources and research. I can't wait to share it with you.
This in this Ezine:
November 28th I had the opportunity to visit San Francisco Ballet and catch up with Raquel Smith who participated in the IABD ballet audition last January and was offered a scholarship to the summer intensive at the school, subsequently she was extended the opportunity to study year round. We had a wonderful chat, the seventeen year old filled us in on what it is like to train at the prestigious institution, being away from home for the first time, and what it feels like be living her dream. We are so pleased to share with your the current screening schedule for the long awaited Black Ballerina movie, please support. Check out the article the Broad street review wrote about MoBB and the Knight Foundation Grant. We are thankful for the interest and the coverage as we start this journey, and as always we bring you a bit of inspiration in the form of an exquisite video of  Houston Ballet's Lauren Anderson and Carlos Acosta in Don Quixote, now it was long before HD so it might be fuzzy but it is still glorious!!!