Jermel Johnson
Pennsylvania Ballet II (2003-2004)
Pennsylvania Ballet: Principal (2004-present)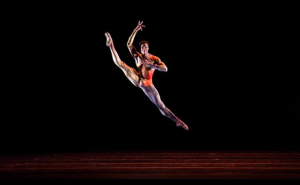 Jermel Johnson began his dance education at the Baltimore School for the Arts. His first four years were spent in their after-school program and his next three enrolled as a student in their rigorous and physically-demanding dance department. Johnson then continued his training at the School of American Ballet (SAB), where he not only received a scholarship to attend their 2001 summer program but also spent an additional year studying under such renowned choreographers as Peter Martins, Peter Boal, Jock Soto, and Andrei Kramarevsky. During his student years, Johnson was often called upon to perform at both schools, including several productions with the Baltimore School for the Arts and in George Balanchine's The Nutcracker® with SAB.
Johnson came to Pennsylvania Ballet in September 2003 as a member of PBII. He was invited to join the company as an apprentice in 2004 and promoted to corps de ballet for the 2007/2008 season. In 2009, Johnson was promoted to soloist and then to principal dancer for the 2012/2013 season. As a principal dancer, Johnson has performed a variety of roles, including Robert Weiss' Messiah, Christopher Wheeldon's  Swan Lake (Prince Siegfried), Jerome Robbins' Afternoon of a Faun, and George Balanchine's The Nutcracker® (Cavalier). His featured roles include such works as William Forsythe's The Vertiginous Thrill of Exactitude, Matthew Neenan's Keep, Jerome Robbins' N.Y. Export: Opus Jazz (Statics), and Jiří Kylián's Petite Mort.
During the 2007/2008 season, Johnson received audience and critical acclaim alike, not only for his standout performances at City Center in New York that November but also in Philadelphia later that spring while performing the world premiere of Matthew Neenan's Pampeana No. 2. In October 2008, Johnson received a prestigious ballet fellowship from the Princess Grace Foundation – USA, which supported his salary for the season and will support his choreographic endeavors in the future.
Sources:
Jermel Johnson, Pennsylvania Ballet
Photo via Johnson's Instagram

See also:
First African-American Male Principal Dancer In Pa. Ballet To Speak At Event Thursday Night, CBS Philly
Pennsylvania Ballet's Jermel Johnson Leaps Through Barriers, Edge Media Network
Jermel Johnson, Crisman Photo
For Pennsylvania Ballet, Transitions On And Off Stage, The New York Times
Jermel Johnson in Robert Weiss' Messiah, The Daily Ballet
Video links:
Vail International Dance Festival: Opening Night with Balanchine's Jewels by Pennsylvania Ballet
Messiah in Rehearsal
Harlem Dance Works 2.0
Social media:
Instagram @jermeltavonjohnson
Twitter @jermeljohnson