William Isaac
Armitage Gone! Dance
Ballet de Lorraine
Alvin Ailey American Dance Theater
Complexions Contemporary Ballet
Alonzo King LINES Contemporary Ballet
Dance Theatre of Harlem
Philadanco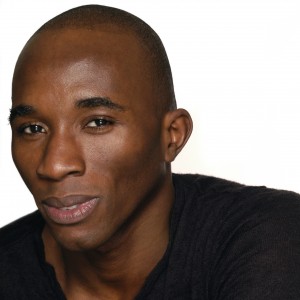 Born on the island of St. Johns, Antigua, Isaac is an alumnus of The Juilliard School, The School at Jacob's Pillow, Fiorello H. LaGuardia High School of Music and Art & Performing Arts, Dance Theatre of Harlem School, Bernice Johnson Cultural Arts Center, DeVore Dance Center, and The Rock School. He has trained under Brunilda Ruiz, Brian Hawthorne, Benjamin Harkarvy, Carol Sumner, Celia Marino, Deborah Zall, Elizabeth Keen, Elisa King, Frederic Franklin, Finis Jhung, Gloria Govrin, Kevin Austin Hunt, Jacqulyn Buglisi, Penny Frank, Paul Sutherland, Michelle Mathesius, Milton Myers, Obediah Wright, Rochelle Zide-Booth, Shirley Black Brown, Stephen Pier, Steve Rooks and Walter Raines.
Mr. Isaac is a former company member of Armitage Gone! Dance (Artistic Director Karole Armitage), Ballet de Lorraine (Artistic Director Didier Deschamps), Alvin Ailey American Dance Theater (Artistic Director Judith Jamison), Complexions Contemporary Ballet (Artistic Directors Dwight Rhoden and Desmond Richardson), Alonzo King LINES Contemporary Ballet (Artistic Director Alonzo King), Dance Theatre of Harlem (Artistic Director Arthur Mitchell), and Philadanco (Artistic Director Joan Myers Brown). Mr. Isaac has had roles created on him by choreographers Alan Barnes, Alice Farley, Alonzo King, Andre Tyson, Carld Jonassaint, Dwight Rhoden, Daniel Ezralow, Darrell Grand Moultrie, Karole Armitage, Lar Lubovitch, Milton Myers, Robert Weiss, Robert Garland, Ron Brown, and Sean Curran. He has danced in the repertory of choreographers Alvin Ailey, Angelin Preljocaj, Arthur Mitchell, Billy Wilson, Donald Byrd, George Balanchine, George Faison, Geoffrey Holder, Gene Hill Sagan, John Taras, Jose Limon, Jawole Willa Jo Zollar, Louis Falco, Malou Airaudo, Michael Smuin, Talley Beatty, and Ted Shawn. Along with performing with dance companies he has also performed as a guest artist in opera productions for New York City Opera, Gotham Chamber, and Opera National de Lorraine à Nancy.
Mr. Isaac is an experienced teacher, working in particular within urban communities that are underexposed to the fine arts. He has conducted outreach and taught classes for Alvin Ailey American Dance Center (Teaching Artist) in New York City; American Ballet Theatre's Make a Ballet program (Teaching Artist) in the Bronx, New York; Harlem School of the Arts; New York City Center (Teaching Artist) in the Bronx, New York; Columbia College in Chicago; The Door New York City; The University of Illinois in Champaign Urbana; Eglevsky Ballet; EMIA; Fiorello H. LaGuardia High School of Music and Art & Performing Arts; and Joffrey's Jazz and Contemporary program.
Working as an assistant choreographer, he has worked on the 2008 Tony Award-winning musical production of Passing Strange (later filmed by Spike Lee) and the 2015 production of El Publico (a new opera at Teatro Real in Madrid, Spain, based on Federico Lorca's play of the same title). He has also assisted in the staging of works by Dwight Rhoden and Karole Armitage. He has regularly choreographed for the Senior Graduation Concert for Fiorello H. LaGuardia High School of Music and Art & Performing Arts in New York City for graduating classes in years 2011, 2012, and 2014. In the fall of 2014 Mr. Isaac worked with Nike and model Karlie Kloss as a creative consultant on the Nike X Pedro Lourenco campaign.
In the fall of 2011, Mr. Isaac started his new repertory company Kymera Dance, with the vision of securing a place for his choreography, as well as creating the mission of inviting and commissioning new and interesting voices in the dance, theater, and the visual art communities. The inaugural performance for Kymera Dance was in February 2012 at The Little Flower Theater in New York City. In May 2014, Kymera Dance completed its second New York City season at the JCC in Manhattan in the Goldman-Sonnenfeldt Family Auditorium, presenting his latest work for the company Aperture of Time, set to Pulitzer Prize-winning composer John Luther Adams' "Four Thousand Holes."
Mr. Isaac is a former Van Lier Fellowship recipient (1992-1994), National Foundation for Advancement of the Arts Finalist (1995), and Donna Reed Festival Finalist (1995) and has been awarded a William Loeb award (1997) and a New York Dance and Performance ("Bessie") award (2007-2008).


Source and current website:
See also:
Dance: Make Room For The New But Keep The Old!, Art Times Journal
Video links:
Social media:
Instagram @billnakia