John Alleyne
Stuttgart Ballet (1978)
National Ballet of Canada: First Soloist (1984-1990), Principal/Resident Choreographer (1990-1992)
Ballet British Columbia: Director (1992-2009)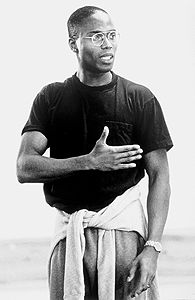 John Alleyne was born in Barbados and immigrated to Canada with his family in 1965. After graduating from Canada's National Ballet School in Toronto in 1978, he joined the Stuttgart Ballet. Here he began his choreographic career, creating Phases (1983), In Variation on a Theme (1984), and his first commission, Weiderkehr (1985).
In 1984, Alleyne returned to Canada and joined The National Ballet of Canada as a first soloist, accepting the position as the company's resident choreographer from 1990 to 1992, and continued to build his choreographic repertoire with Blue-Eyed Trek (1988), Split House Geometric (1989-1990), and Interrogating Slam (1991).
Alleyne began his association with Ballet British Columbia (Ballet BC) in the late 1980s when he was invited to choreograph several new works for the company, among them Flying To Paris (1989), Go Slow Walter (1990), and Talk About Wings (1991). Alleyne was appointed artistic director of Ballet BC in 1992. His leadership marked the beginning of a creative and prosperous period in the company's history, where Alleyne created one act and full-length contemporary ballets, including The Archeology of Karl… A romantic adventure (1993), Three Visible Poems (1994), The Don Juan Variations (1995), Can you believe she actually said (1995), Remember Me From Then (1996, with Peter Bingham of EDAM), Sex is My Religion (1996), Boy Wonder (1997), The Goldberg (1998), Schubert (1999), The Faerie Queen (2000, adapted and filmed by CBC), Orpheus (2002) Scheherazade (2002), Carmina Burana (2004), The Rite of Spring (2005), A Streetcar Named Desire (2006), and The Four Seasons (2008).
A number of internationally respected companies, festivals, and institutions have commissioned new choreography from Alleyne, including the Canada Dance Festival, the New York City Ballet's Diamond Project, the San Francisco Ballet's celebration of the 50th Anniversary of the United Nations—United We Dance, the Dance Theatre of Harlem, Les Ballet de Monte Carlo, the National Arts Centre, the Banff Centre for the Arts, and EDAM with the Firehall Arts Centre.
Alleyne is the recipient of many prestigious awards acknowledging his outstanding contribution to the world of dance. He was the recipient of Toronto's Dora Mavor Moore Award for Outstanding New Choreography for Interrogating Slam (1992); the Harry Jerome Award for Professional Excellence from the Black Business and Professional Association (1993); the first-ever honorary Doctorate of Fine Arts from Simon Fraser University (2003); the Vancouver Arts Award for Performing Arts, recognizing extraordinary achievement and promise (2004); and the Exceptional Achievement Award in the Performing Arts from the Black Historical and Cultural Society of British Columbia (2005). He was also a keynote speaker at the Golden Key International Honorary Society at the University of British Columbia (2006).
See also:
John Alleyne, The Canadian Encyclopedia
John Alleyne, Dance National Arts Centre
John Alleyne, Choreographer