Mel Tomlinson
Heritage Dance Theatre
Dance Theatre of Harlem: Soloist (1974-1976, 1978-1981)
Alvin Ailey American Dance Theater (1976-1978)
New York City Ballet: Soloist (1981-1987)
Boston Ballet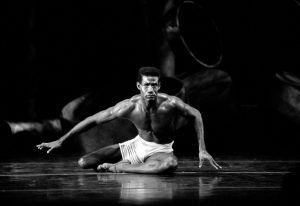 Born one of six siblings in Raleigh in 1954, Mel Tomlinson became interested in dance after studying high school gymnastics. When he was 17, he began formal dance study at the North Carolina School of the Arts and received his BFA in only two years, while touring as a principal dancer in Agnes De Mille's Heritage Dance Theatre. He then switched from a modern dance concentration to ballet.
In 1974, he moved to New York to join the Dance Theatre of Harlem where his powerful build, crystalline articulation of line, and supple flexibility propelled him to soloist, most notably as the snake in Arthur Mitchell's Manifestations (1975). In 1976, he took a leave of absence to perform with the Alvin Ailey American Dance Theater, where he danced the male role in Ailey's Pas de Duke with Judith Jamison and premiered the revival of Lar Lubovitch's The Time Before the Time After (After the Time Before) with Sara Yarborough.
Discouraged by the heavy touring responsibilities of the Ailey Company, Tomlinson returned to DTH in 1978 to perform principal roles in Swan Lake and Scheherazade. In 1981, he joined the New York City Ballet as its only African American member. He was quickly promoted to soloist, performing in George Balanchine's Agon. Tomlinson left City Ballet in 1987 to join the faculty at the North Carolina School of Arts. In 1991 he joined Boston Ballet as a dancer and master teacher in the CITYDANCE program, which brought classical dance to public school children in the Boston area.
Source:
An Exclusive Tour with Dr. Mel A. Tomlinson – Dance Theatre of Harlem: 40 Years of Firsts, Harvey B. Gantt Center
See also:
City Ballet: Tomlinson Makes Debut in Agon, The New York Times
Mel A. Tomlinson, 65, Ballet Star and 'Agon' Interpreter, Dies, The New York Times
Ballet dancer Mel Tomlinson returns to Raleigh to teach students, The News & Observer
Video links:
Interview with Dr Mel Tomlinson
2012 Fall Dance Concert Part 1: Mel Tomlinson