Aesha Ash
New York City Ballet: Corps de Ballet (1996-2003)
Béjart Ballet (2003-2005)
Morphoses
Alonzo King LINES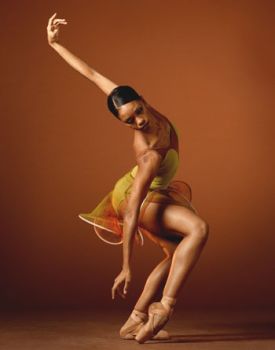 Born in Rochester, New York on December 30, 1977 to Costello and John Ash, Aesha Ash grew up in a strong, supportive working class family with two brothers, Spencer and Jonathan Ash. From the age of five, Ash took jazz and tap lessons.
At 13 years of age, past the time when most girls begin ballet lessons, Ash was accepted into what is recognized as one of the most prominent classical ballet schools in the world and the official ballet school of the New York City Ballet, the School of American Ballet (SAB). Ash proved to be such a tremendously gifted dancer that in only a few years, during her last year with SAB, she received the Mae L. Wien Award for Outstanding Promise. At age 18, Ash became a corps member of City Ballet. That same year, 1996, at the beginning of her professional career, Ash was the only African American woman member of City Ballet, and, for most of the next seven and a half years that she was with the company, she remained so.
Ash's strong and graceful pointe work is on full display in the 2000 movie Center Stage, where she appears as Zoe Saldana's dance double.
In 2003, Ash left City Ballet to join the famed Béjart Ballet in Lausanne, Switzerland as a soloist. While enjoying success in Europe with Béjart, Ash nevertheless often felt isolated, and, after two years in Switzerland, she returned to the United States to join Alonzo King LINES Ballet in San Francisco. The company is innovative in its use of dancers trained in classical ballet while employing improvisational and contemporary choreography. Ash found a revival of her love for dancing with King's troupe.
Recalling how empowered and encouraged she felt when, as a student at SAB, she would see African American ballerina Andrea Long's picture on the staircase in the dorms of the school, Ash was inspired to create The Swan Dreams Project. The project is Ash's vehicle to try to "change the hearts and minds of the ballet audience" and to introduce the world of classical ballet to inner city youth. Ash especially wants to inspire young women of color to believe in their own strength and beauty, and to show the world that beauty and grace are not defined by race or socio-economic status.
Although Ash is retired from dancing, in addition to working on The Swan Dreams Project, she continues to teach ballet and Pilates part time.
In 2020, she became the first Black female member of the School of American Ballet's permanent faculty.
Sources:
Aesha Ash, Black Past
Aesha Ash Takes Her Place at the Head of the Class, The New York Times
Current website:
See also:
Aesha Ash: the elite ballerina helping everyone feel welcome onstage, The Guardian
Aesha Ash's Letter to her Teenage Self, Dance Spirit Magazine
Where Are All the Black Swans, The New York Times
Aesha Ash, Interview En L'air
TDE Asks Aesha Ash of the Swan Dreams Project, The Dance Enthusiast
Video links:
Aesha Ash – Woman Making History Award Winner
Aesha Ash #iamdrapercenter
The Power of Imagery, The Swan Dreams Project
Social media:
Instagram @theswandreamsproject
Twitter @theswandreams