Homer Hans Bryant
Dance Theatre of Harlem
Chicago City Ballet
Bryant Ballet/Chicago Multi-Cultural Dance Center: Founder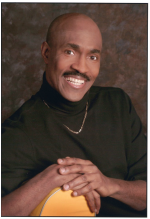 Dance founder and instructor Homer Bryant was born in the Virgin Islands on the Isle of St. Thomas in 1950 and became involved in dance in middle school. His teacher arranged for him to dance at the Jacob's Pillow Dance School where he studied under some of the most prominent modern dance pioneers. Bryant then came to the attention of dancer and choreographer Arthur Mitchell, founder of the Dance Theatre of Harlem, the first African American classical dance company in the United States. Mitchell extended an invitation to Bryant to come to New York and study with the company, which he accepted.
In 1972, Bryant began his professional career when he joined DTH. He continued to dance and tour professionally with the company and took a hiatus in 1978 to perform in the Broadway musical Timbuktu! alongside Eartha Kitt. He also appeared in the film version of the musical The Wiz along with Diana Ross and Michael Jackson. He then worked with Donald McKayle's dance company and, while on tour, came to Chicago and danced briefly with Maria Tallchief's Chicago City Ballet.
In 1981, Bryant returned to New York to oversee the Dance Theatre of Harlem's pre-professional workshop ensemble. Four years later, Bryant moved to Chicago to start his own dance company and school, Bryant Ballet. In 1993, Bryant began working with Cirque de Soleil, a relationship that continued for three of Cirque de Soleil's most popular productions, Mystere, Alegria, and Quidam. Bryant also served as ballet master for the Joel Hall Dancers and Dance Chicago.
In 1997, in recognition of the school's influence, Chicago Mayor Richard Daley issued a proclamation officially renaming Bryant's school The Chicago Multi-Cultural Dance Center. The next year, Bryant served as lead artist for the city of Chicago's Gallery 37.

Bryant has received the Chicago Cultural Alliance's Lifetime Achievement Award. He also was featured in the short documentary Raising the Barre: The Homer Bryant Story in 2009. 
Sources:
Homer Bryant, The History Makers
A Day in Ballet: With Homer Bryant and Company, Vimeo
Current website:
Chicago Multi-Cultural Dance Center
See also:
South Loop dancer forbids mistakes and changes lives, Chicago Tribune
Video links: