Kabby Mitchell III
Dance Theatre of Harlem
Pacific Northwest Ballet: Soloist
Oakland Ballet
Netherlands Dance Theater
Civic Light Opera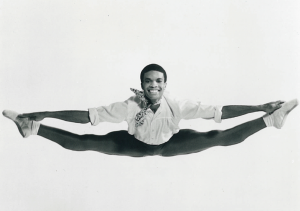 Kabby Mitchell III was a choreographer, educator, and performer whose signature choreography has been seen in Black Nativity since 2000. He danced with Dance Theatre of Harlem, Nederlands Dans Theater, Civic Light Opera, and Oakland Ballet. He was the first African American male soloist to dance with Pacific Northwest Ballet. He was also a professor of Performing Arts and African American Studies at Evergreen State College and was celebrated with a 2016 Mayor's Arts Award. A mentor to thousands, he recently founded the Tacoma Urban Performing Arts Center (T.U.P.A.C.) to further the arts education for the youth of Tacoma.
Mitchell was a dance instructor for more than 35 years, teaching ballet, modern, jazz, and Afro- Haitian dance at schools and dance academies in Seattle, Iowa, and Mexico. In Seattle, he worked with Pacific Northwest Ballet, Cornish College of the Arts, University of Washington, Seattle Academy of Arts and Sciences, DASS Dance, Spectrum, and Ewajo Dance Workshop. His local choreography credits included work with Spectrum Dance Theater, The Group, Seattle Rep, Bathhouse Theatre, ACT, and Civic Light Opera. His credits included Sankofa Theatre's MAAFA Experience at the Moore Theatre; Flight, directed by Valerie Curtis-Newton at ACT; Hamlet X, directed by Tyrone Brown; and his own piece, Beautiful/Ugly, at Langston Hughes Performing Arts Center.
He frequently contributed his time to help programs that support the development of young urban dancers and was a supporter of local art and theater companies whose goals are to serve the underserved community through the arts. In 2007, as part of PNB's first Celebrate Seattle Festival, Mitchell was honored for his significant contributions to the Northwest dance scene and for being the first African American to dance with PNB. Also in 2007, he was featured on the cover of Colors NW magazine's August issue, and Arthur Mitchell, the director of Dance Theatre of Harlem, asked him to be a part of the "Masters and Mentors" program. DASS Dance also honored Mr. Mitchell for his contributions to contemporary dance in the Northwest. Most recently, Mr. Mitchell directed and/or choreographed Ballet Bellevue's Nutcracker, Seattle Opera's Porgy and Bess, and Langston Hughes' summer musical entitled Roll of Thunder: Hear My Cry.
See also:
Remembering Kabby Mitchell, Seattle Dances
[Sponsored by Hannah Silverman]