Louis Johnson
New York City Ballet: Guest in Jerome Robbins' Ballade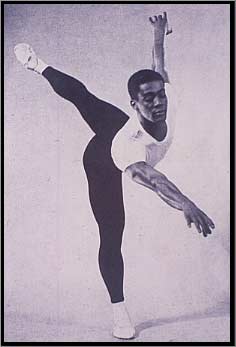 Louis Johnson was born on March 19, 1931 in Statesville, North Carolina and grew up and spent most of his childhood in Washington DC. The Johnson family lived two blocks from the YMCA, and Johnson took advantage of all the activities the "Y" had to offer. He was a great athlete and became a champion wrestler and noted acrobat. When the YMCA had to close for repairs, the YWCA offered them space. The ballet teacher at the YWCA noticed Johnson and gave him a scholarship at the Doris Jones-Clara Haywood School of Dance. After initial study at the Doris Jones-Clara Haywood School of Dance, he moved to New York in 1950 to accept a scholarship at the School of American Ballet.
In 1952, Johnson performed with the New York City Ballet in the premiere of Jerome Robbins' Ballade. Robbins also used Johnson to create the role in Afternoon of a Faun, but because Johnson was Black he was not allowed to dance the role. In 1953 George Balanchine didn't think New York City Ballet was ready for a racially mixed pas de deux.
Throughout the 1950s, Johnson danced on Broadway in several shows including My Darlin' Aida, House of Flowers, and Hallelujah Baby! He appeared in both the stage and screen versions of Bob Fosse's Damn Yankees.
He also performed in the Broadway productions Les Blancs, Kwamina, and Four Saints in Three Acts (revival).
Johnson began making dances in 1953 and achieved his greatest fame as a choreographer who comically combined a continuum of movement styles, including social dances, popular music, classical ballet technique, Katherine Dunham-inspired modern dance, spiritual dancing, and acrobatics.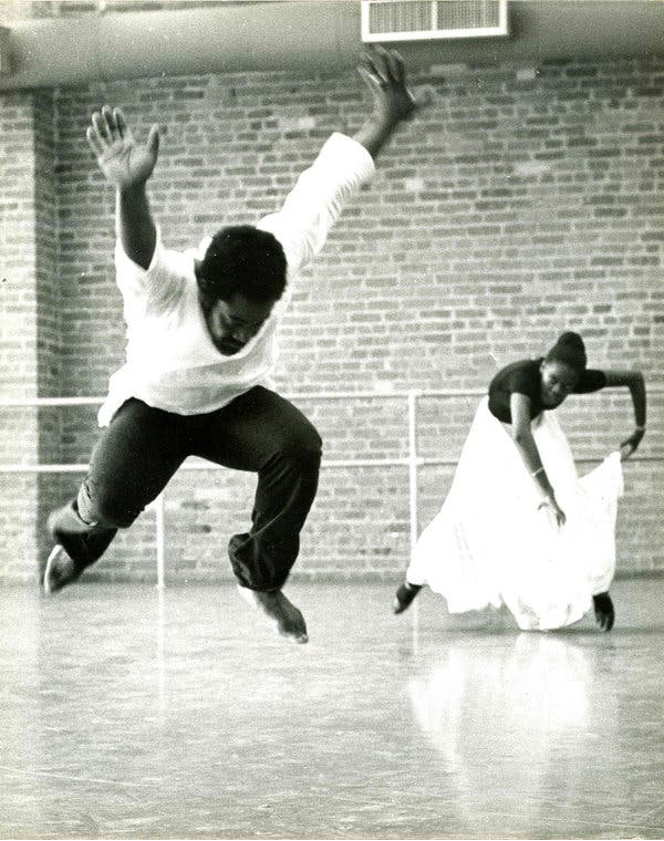 His two most popular ballets are Forces of Rhythm (1972), created for the Dance Theatre of Harlem, and Fontessa and Friends (1981), first performed by the Alvin Ailey American Dance Theater. In 1970 Johnson was nominated for a Tony Award for his choreography of Purlie, a musical version of Ossie Davis' Purlie Victorious. He also choreographed the films Cotton Comes to Harlem (1970) and The Wiz (1978). Johnson staged the Houston Grand Opera's 1975 revival of the Scott Joplin opera Treemonisha, which included a reconstruction of the "slow drag," a 19th-century African American social dance.
Active as an arts educator and teacher since the 1970s, Johnson has conducted Black arts symposiums at Howard, Yale, Virginia State, Hampton Institute, and Morehouse College and in 1986, was appointed as the director of the dance division of the Henry Street Settlement on the Lower East Side of Manhattan; he continued to work there until 2003.
Johnson choreographed the following productions: La Giaconda (Metropolitan Opera, starring Martina La Rowa), Aida (Metropolitan Opera, starring Leontyne Price), Purlie, and Lost in the Stars (revival) and was a creative consultant for Play On!. Johnson has also mounted ballets for the Cincinnati Ballet, Alvin Ailey American Dance Theater, the Joffrey Ballet, Philadanco Dance Company, Dance Theatre of Harlem, and Atlanta Ballet. His directorial credits include Porgy and Bess, Miss Truth, Jazbo Brown, Time in the Wind, and Ebony Game.
Johnson's honors include: the Pioneer Award from the International Association of Blacks in Dance at the Kennedy Center in Washington DC, an honor from the California chapter of the NAACP for his work with the original Negro Ensemble Company, and a special night honoring him from Ashford and Simpson.
Sources:
Louis Johnson, I For Color (page no longer active)
Louis Johnson, 90, Genre-Crossing Dancer and Choreographer, Dies, New Federal Theatre
See also:
Artist and Influence, Louis Johnson, Dancer & Choreographer, interviewed by Glory Van Scott and Mary Cannon Screen