Elizabeth Ann Thompson
Les Ballets Negres
New York Negro Ballet
Radio City Ballet Company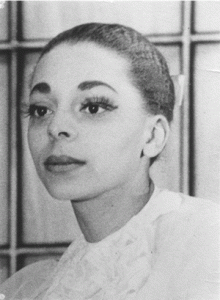 Elizabeth Ann (Betty Ann) Thompson (1936-2012) was born in Harlem in 1936 and began dancing at 12 years old in her church musical theater group. A childhood friend, Thelma Hill, guided Thompson downtown to take classes with Maria Nevelska. Ms. Thompson attended the Juilliard School but would leave to pursue a professional career performing with Les Ballets Negres, the predecessor to the New York Negro Ballet.
After the company disbanded, Thompson was employed as a secretary and performed part-time with Geoffrey Holder and Louis Johnson. In 1966, the Radio City Ballet Company hired Thompson—a pioneer woman of color in a predominantly white corps; she performed with the company full-time until the company's demise in 1975 and part-time until 1979. She also performed with Walter Nix.
Thompson taught dance at Dance Theatre of Harlem and was the dance mistress at Ballet Hispanico for six years, as well as teaching in France. She later shared her passion for dance as a teacher of young ballerinas at the Marie Wildey School of Dance in East Orange, NJ.
She passed away at age 76 in March 2012.
Sources:
Joselli Audain Deans: Elizabeth Thompson, telephone interview by author, December 15, 2000, Philadelphia, PA, tape recording.
Elizabeth Hubbard, 76, Dancer and Beloved Gardener, AMNY
Black Swans Shattering the Glass Ceiling, La'Toya Princess Jackson
See also:
Dancing Many Drums: Excavations in African American Dance
Classic Black, Dance Magazine
Elizabeth Hubbard, 76, dancer and beloved gardener, AMNY