Gayle McKinney
Dance Theatre of Harlem- Soloist /Ballet Mistress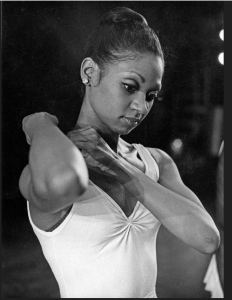 Gayle McKinney Griffith  is one of the founding member of the Dance Theatre of Harlem. Born in Harlem, she moved to Quaker Hill at the age of 6. Though she pursued dance and ballet starting at the age of 3, first in a dance program at Carnegie Hall where she learned the basics of rhythm and movement, it was here in New London, at the Froman Ballet School, where McKinney Griffith received the foundation needed to later pursue ballet as a professional. McKinney Griffith studied at the New York Juilliard School of Music and Connecticut College.
Approximately three years after DTH's inception, McKinney Griffith stepped up to take the role of ballet mistress for the company. Because she was able to learn and memorize dance steps quickly and with accuracy, McKinney Griffith was a logical choice for the position, which she held for seven years while still dancing as part of the company.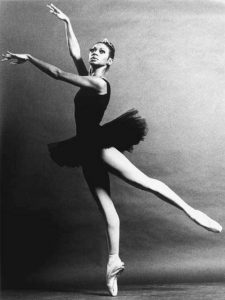 Professor Gayle  She became the first ballet mistress and soloist of the original Dance Theatre of Harlem and has extended her career to film, television and musical/theatre productions. With her husband, Professor Donald Muldrow Griffith, she is co-founder/director of Fountainhead Tanz Theatre, XXV, Black International Cinema 2010 Interdisciplinary Film Festival, The Collegium forum and television program, in association with Cultural Zephyr e.V., which are based in Berlin, Germany.
Professor Griffith teaches classical ballet, jazz and modern movement, and Pilates structured body placement. The Griffith's have two talented children, Donald II (UConn, political science/athlete) and Khadija (Connecticut College, dancer).
Souce: https://www.theday.com/article/20181021/ENT10/181029992
Website: http://www.fountainhead-tanz-theatre.de/col-e.html
Articles: