Lavinia Williams 
American Negro Ballet
American Ballet Theatre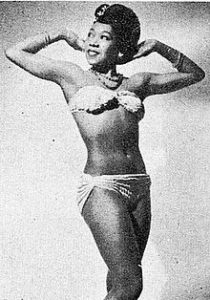 Lavinia Williams was born in Philadelphia, PA in 1916, and spent her adolescent years growing up in Brooklyn New York. Before moving to New York Williams began dancing when she was only three years old through lessons from her grandmother who worked in a dance studio in Portsmouth Virginia. They later moved to Virginia and she began taking private lessons because the prejudice in the South did not allow her to dance alongside the other white children in the studio. Williams eventually worked with a teacher in New York named Virginia Lee who gave Williams a Scholarship to Ballet Arts School to train in Classical Ballet. 
Williams joined the First American Negro Ballet in 1937 with Eugene Von Grona and danced in Firebird as the 13th princess. They performed in Harlem in the Lafayette Theatre. When the American Negro Ballet disbanded in 1940 Williams went to dance with the American Ballet theatre where she performed in Agnes de Mille's "Black Ritual" during the ABT's first season. After being seen with the ABT she was invited to join Katherine Dunham's company and she stayed with them until 1945, becoming a ballet instructor at the first Katherine Dunham School of Dance in Manhattan. Williams toured Europe and appeared in Broadway shows like "Showboat", "'Finian's Rainbow", and "My Darling"
In 1953 Williams moved to Haiti to continue teaching dance until 1980. She helped to found the National School of Dance and the National Dance Troupe of Jamacia, along with the Haitian Institute of Folklore and Classical Dance. She then returned to teach in the U.S at her own founded school in Brooklyn, and Ailey's School. She moved back to Haiti in the mid 1980's. 
She is the mother of Ballerina Sara Yarbough-Smith.
Articles and Links:
New York Public Library Archive
https://www.nytimes.com/1989/08/10/obituaries/lavinia-williams-73-a-dancer.html
https://dotcomplicated.co/content/2016/03/04/womens-history-month-lavinia-williams/
https://www.loc.gov/folklife/civilrights/survey/view_collection.php?coll_id=2792