Frances Taylor Davis
Katherine Dunham Company
Paris Opera Ballet: Guest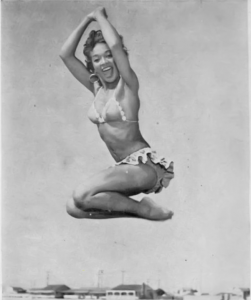 Frances Taylor Davis (September 28, 1929 – November 17, 2018) was the first Black ballerina to perform with the Paris Opera Ballet.
She began her training in classical ballet at the age of eight. Her instructor encouraged her to audition for the Edna McRae School of the Dance, where she became the only African American student. During her studies, Taylor met dancer and choreographer Katherine Dunham, who offered her a scholarship to study dance at the Katherine Dunham Company.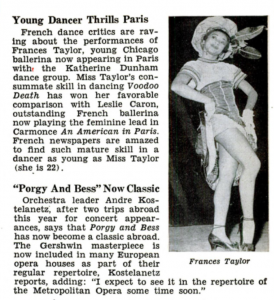 Taylor joined the Katherine Dunham Company, where she was taught by Walter Nicks. She toured with the dance troupe in Europe and South America. In 1948, Taylor was recruited for a special presentation to perform with the Paris Opera Ballet, becoming the first African American to be invited to perform with the ballet company. Taylor received rave reviews from the press for her performances in Paris. During her time in London, Taylor attended rehearsals with Sadler's Wells Ballet, later known as the Royal Ballet.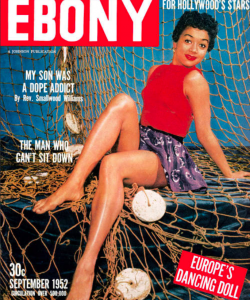 Davis' popularity grew and she regularly appeared in African American publications like Hue magazine and Jet magazine.
In 1954, Davis was set to star alongside Ruth Attaway, Jane White, and Frederick O'Neal in Sammy Davis Jr.'s ABC sitcom, Three for the Road- with the Will Mastin Trio, a show about struggling musicians. Unfortunately, the television networks were unable to get a sponsor for the show; the African American cast was not a depiction of the typical stereotypes of the time.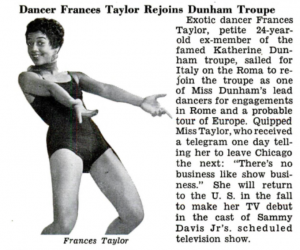 In 1954, Taylor rejoined the Katherine Dunham dance troupe as one of Dunham's lead dancers. After a brief marriage to a member of the dance troupe in 1955 and giving birth to a son, Taylor relocated to New York City to act on Broadway, where she was cast in various musicals, including Mr. Wonderful, Shinbone Alley, and West Side Story.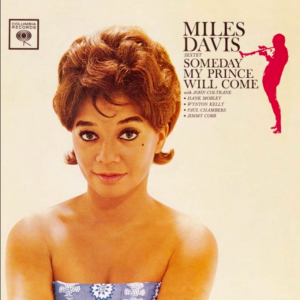 Despite her immense talent, many remember her for her relationship to Miles Davis. The famous musician put her on the cover of his iconic 1961 album Someday My Prince Will Come.
Interview lead by Tripp Mahan, Vice President of Global Experiences for Beautycon Media:
Source:
Frances Taylor Davis, Wikipedia
See also:
Frances Taylor Davis, First Wife Of Miles Davis, Has Died, Essence
Frances Davis: Her Story – Life before & after Miles (video)