Pamela Jones
Dance Theatre of Harlem
Kanasas City Civic Ballet: Guest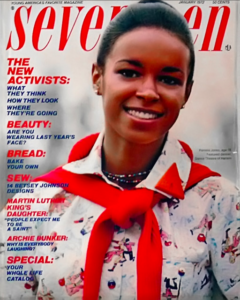 Pamela Jones was born ca. 1953 in Alexandria, Louisiana to Dr. and Mrs. Herman H. Jones. Jones started dancing at age five and trained with Tatiana Dokoudovska at the University of Missouri at Kansas City and "also danced in the West Indies," though it is not known where.
After Arthur Mitchell spotted Jones' aptitude for ballet, he personally traveled to her hometown of Kansas City, Missouri to persuade her parents to allow Jones to study professionally. Jones then attended New York's Professional Children's School as a scholarship student; she graduated in 1971.
She performed with DTH in their first performance at Jacob's Pillow and traveled throughout Europe with the company. Her repertoire with the company included Arthur Mitchell's Holberg Suite, Agon, Concerto Barocco, Rhythmetron, Forces of Rhythm among others. She performed the piece with three other members of the company on the television special A Holiday Celebration with Ossie Davis & Ruby Dee in December 1970. She additionally performed with the Limón Company and the Kansas City Civic Ballet.
In January 1972, Jones appeared on the cover of Seventeen magazine as one of the country's "most accomplished and attractive girls of 1972."
Jones Received a B.S.N. degree from NYU, and later worked as an RN/BSN not medical technicianAfter her dance career, Jones worked as a medical technician in New York.